Ingredients
Banana Pudding
6

ounces vanilla or banana instant pudding

3

cups milk

8

ounces sour cream
14

ounces sweetened condensed milk

8

ounces frozen whipped topping, thawed
Peanut Butter Mousse
3

cups peanut butter

1

cup (2 sticks) butter, softened
Additional Ingredients
4

ripe bananas, peeled and sliced
1

package peanut butter sandwich cookies
Chef notes
Banana pudding is one of my favorite desserts and the only way I can think to make it better is to add peanut butter.
Technique tips: Pipe each layer, instead of spooning it in, to ensure clean assembly. Layer this recipe in mini mason jars and screw the top back on for easy transport.
Swap option: Use vanilla wafers instead of peanut butter sandwich cookies.
Preparation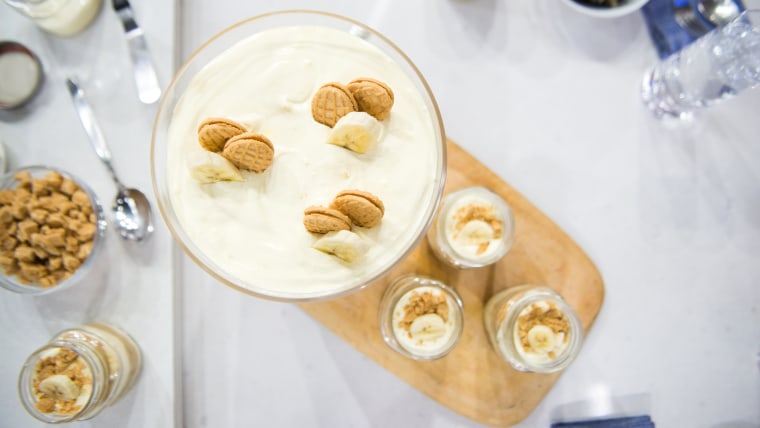 For the banana pudding:
In a large bowl, mix the instant pudding, milk, sour cream, condensed milk and whipped topping together well. Chill until set and firm.
For the peanut butter mousse:
In a stand mixer (or with a hand mixer), beat peanut butter and softened butter on high for two minutes. Turn mixer to low and slowly add the powdered sugar.
To assemble:
In a 3-quart trifle dish or 9- by 13-inch glass baking dish, layer pudding mix, peanut butter mousse, sliced bananas and peanut butter sandwich cookies, ending with the cookies.