Chef notes
If you know and love panzanella — the Italian bread salad typically made with tomatoes and cucumbers — why not use it as a base to highlight other star summer produce? 
Erin French, chef and owner at The Lost Kitchen in Freedom, Maine, had just that idea with this Peach and Blackberry Bread Salad. The trick to a great panzanella is using bread that's either a bit stale or has been dried out, so that it doesn't get soggy and gives each bite the best ratio of crispiness to soft fruit. In this version, a loaf of French or ciabatta bread is cut into cubes and toasted on the stovetop to create quick homemade croutons that soak up all of the good flavors. 
Once you've crisped up your bread, mix it with blackberries, juicy cucumbers, sweet peaches and summer herbs like basil and mint to create a heavenly combination that will shine all throughout the warm summer months. The final touch —a simple vinaigrette made with shallot, rice wine vinegar and olive oil — helps combine all the ingredients into one flavor-packed salad. 
While this is the ideal side dish for a vibrant picnic or summer party spread, bread salad can be made into a heartier main dish by serving it over a bed of fresh arugula and adding crumbled goat cheese. 
Did we get you hooked on panzanella? Extend the bread salad season into fall with this autumnal version.  
Swap Option: Use your favorite ripe stone fruit in the place of peaches. French recommends using  French bread or ciabatta, but you can use any bread that has a hearty crust on it. 
Ingredients
For the Vinaigrette
1

shallot, finely chopped

3

tablespoons rice wine vinegar
For the Salad
2

tablespoons olive oil

4

cups cubed bread (nice loaf like French or ciabatta)
kosher salt, to taste
freshly ground black pepper, to taste

4

peaches, ripe but firm, pitted and cut into 1/2-inch wedges

1

English cucumber, seeded and cut into 1/4-inch half-moons
1/2

cup fresh basil leaves, gently torn

2

sprigs fresh tarragon leaves, stem removed

2

sprigs fresh mint leaves, gently torn

1/2

pint (about 2 cups) fresh blackberries
edible flowers such as pansies or nasturtium, for garnish
Preparation
Make the vinaigrette:
In a small bowl, add the shallots and vinegar. Let macerate for 15 minutes to soften. Whisk in the olive oil. Season with salt and pepper to taste.
Make the croutons:
1.
Heat the olive oil in a large cast-iron skillet over medium heat. Add the bread cubes and toast, frequently shaking the pan, until the bread is golden on all sides, about 4 minutes. Season with salt and pepper, then transfer toasted bread to a large mixing bowl.
2.
Add peaches and cucumbers to the bowl. Top with the vinaigrette and toss to coat. Let sit for 10 minutes.
3.
Add the herbs and blackberries and gently toss. Garnish with edible flowers and serve.
How to shop TODAY recipes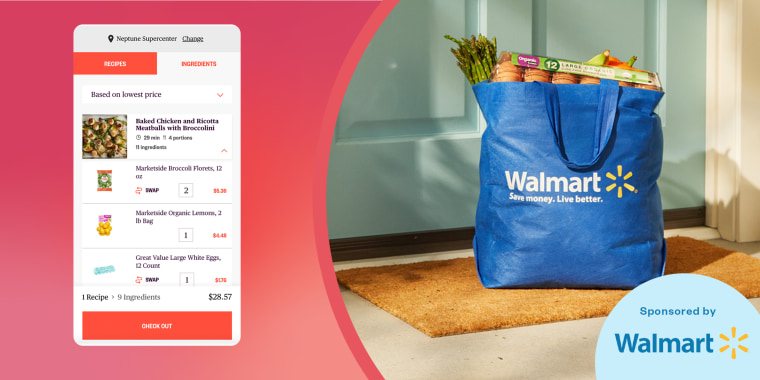 How to shop TODAY recipes
Here's everything you need to know about the cool new feature.
Learn More