Ingredients
Pie crust
1

cup vanilla wafer crumbs (from about 30 cookies)

1

cup gingersnap cookie crumbs (from about 20 cookies)
6

tablespoons melted unsalted butter

1/4

teaspoon salt
Pie filling
1/2

cup sour cream or Greek yogurt (full fat or reduced fat)

1/4

cup (2 ounces) cream cheese or Neufchatel cheese, softened

1/4

cup packed light or dark brown sugar
3

large eggs

1/2

cup dark maple syrup

1/4

teaspoon cinnamon
Homemade whipped cream
1

cup heavy cream

2

tablespoons maple sugar or powdered sugar
Cinnamon for garnish (optional)
Chef notes
Though pumpkin pie will never be knocked off its pedestal as champion of the Thanksgiving dessert scene, it's time to bring some new contenders to the table this year. Like, say, this easy and oh-so-festive maple cream pie, for instance!
It's got the same creamy texture as pumpkin pie and the same simple stir-and-bake assembly as its more famous friend. And it's a little more versatile too! With its gingersnap cookie crust and billowy clouds of sweetened whipped cream, this pie works just as well for Thanksgiving as it does for any wintry holiday feast.
Preparation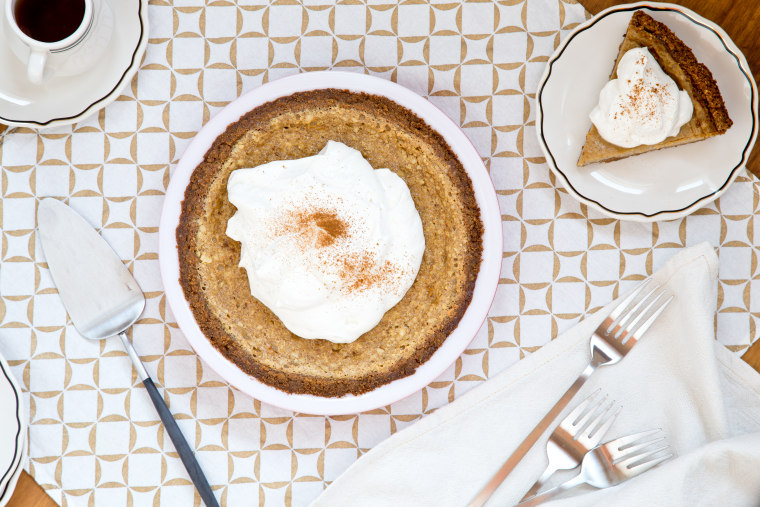 Preheat the oven to 350 degrees F.
Stir the cookie crumbs, butter, and salt together in a bowl, then press into a 9-inch pie pan. Use a measuring cup to help the crumbs adhere evenly to the sides and bottom of the pan. Bake for 10 minutes, then cool to room temperature while you make the filling.
Blend the sour cream, cream cheese, and sugar together with an electric hand mixer on medium-low speed until no lumps of cream cheese remain. Scrape down the sides of the bowl as needed.
Reduce the mixer speed to low and stir in the eggs one at a time.
Stir in the maple syrup and cinnamon. Pour the filling into the cooled pie crust.
Bake for about 30 minutes, until the filling is fully set and puffed, but still maintains a little bit of wobble in the center. Cool completely on a rack for at least 1 hour – the pie will deflate as it cools.
Make the whipped cream: pour the cream into a large bowl and beat with an electric hand mixer or stand mixer fitted with the whisk attachment on medium speed until the cream starts to thicken and soft peaks form. Sprinkle the sugar over the cream, then whip for 1-2 minutes more until thick and voluminous.
Generously top the pie with the whipped cream and sprinkle lightly with cinnamon, if desired.
Make it ahead!
The pie can be made up to 3 days before serving. Bake and cool, then cover with plastic wrap and refrigerate. Bring to room temperature before serving, then top with whipped cream.