Ingredients
1

pound block Monterey Jack cheese (or Brie)

¾

cup all-purpose flour

3

large eggs

3

tablespoons whole milk

2

cups crushed tortilla chips

1½

teaspoons garlic powder

1½

teaspoons onion powder
1

teaspoon dried basil

1

teaspoon dried oregano

1

teaspoon dried parsley

1

teaspoon dried thyme

6

cups canola oil
Kosher salt
Avocado Ranch Dip
1

cup Greek yogurt

1

avocado

1

tablespoon ranch spice (recipe below)

1

lime
1/4

cup buttermilk

1/4

cup cilantro

1/4

cup parsley leaves chopped
Ranch Spice Mix
1/2

cup and 4 tablespoons onion powder

1/2

cup and 1 tablespoon garlic powder

1/2

cup salt

4

tablespoons ground black pepper
3

teaspoons lemon powder

2

teaspoons smoked paprika

2

teaspoons aleppo

2

teaspoons dried parsley
For Brie cheese sticks: Date Marinara Sauce
1/4

cup olive oil

1/2

cup red wine

1

cup sweet onions. chopped

6

cloves garlic. smashed
2 1/5

pounds tomatoes, chopped

2

cup dates, pitted and chopped

1/2

cup basil leaves
Chef notes
Skip the boxes in the freezer aisle and make cheese sticks at home. They're incredibly simple to whip up in your own kitchen, plus you can get creative and use other cheeses.
Chef's note: To give them an even fancier twist, swap in Brie and pair it with a date marinara sauce.
Preparation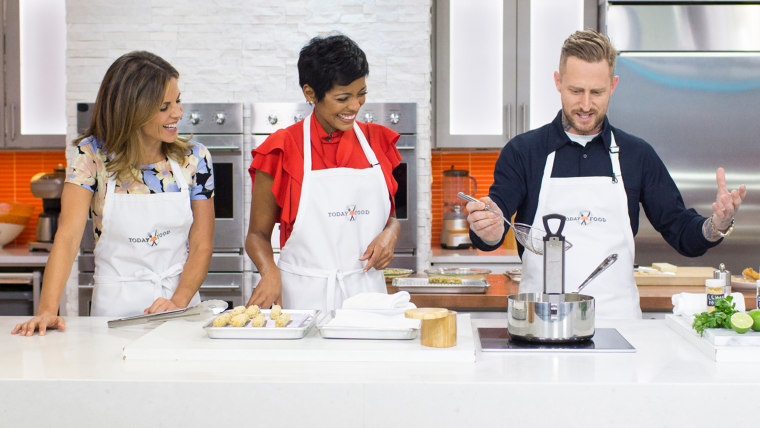 To make the cheese sticks:
Cut cheese into 3-inch by 1/2-inch logs. Place flour in a shallow dish. Whisk eggs and milk together in another shallow dish. Mix chips, garlic powder, onion powder, basil, oregano, parsley and thyme together in third shallow dish.
Working with one piece of cheese at a time, dredge in flour, shaking off excess. Dip into the egg mixture, then coat in chip mixture, pressing to adhere. Repeat steps for a second coating. Transfer to a wire rack set inside a rimmed baking sheet. Repeat with remaining Jack cheddar. Transfer rack with cheese to freezer and freeze at least 1 hour.
Fit a large pot with a deep-fry thermometer and pour oil in until it comes 2 inches up the sides. Heat over medium-high until thermometer registers 350°F. Working in batches, fry prepared cheese sticks, turning occasionally, until golden brown and crisp, approximately 2 to 2½ minutes. Transfer to a paper towel-lined plate and season with salt while still hot.
To make the Ranch Spice Mix:
Blend in Vita-mix until a smooth consistent powder is formed.
To make the Avocado Ranch Dip:
Clean avocado and save skin for serving vessel. Squeeze lime juice over the flesh. Blend all ingredients together. Put sauce in the avocado skin. Serve with cheese sticks.
To make the Date Marinara Sauce:
Put oil in a sauce pan. Add onions and garlic. Sweat until translucent. Deglaze with wine. Add tomatoes and dates. Simmer on low for 3 minutess. Finely chop the basil and add to the sauce. Season with salt and pepper. Pour sauce into a blender and pulse a few times until everything comes together. Simmer on low for 30 minutes or until most of the liquid has reduced and is almost dry.
Make ahead: These cheese sticks can be breaded 3 days ahead and kept frozen.