Ingredients
1/4

cup extra-virgin olive oil

1

pound (16/20 count) large shrimp, peeled and deveined
kosher salt and freshly ground black pepper

1

sweet onion, halved and thinly sliced

5

cloves garlic, thinly sliced

1¼

teaspoons dried oregano

3/4

teaspoon crushed red pepper flakes
1

(28-ounce) can diced tomatoes

1

cup clam juice

1/2

cup water

3

tablespoons fresh lemon juice, plus wedges for serving

1/4

cup chopped fresh parsley leaves
crusty bread, for serving
Chef notes
Fra Diavolo is an Italian-American tomato sauce that roughly translates to "among the devil". Its spice level inspired its name, and I personally would sell my soul to the devil to have a container of it in my freezer after a long work day. Luckily for me (and you) it is a quick one-skillet dish that comes together in just about 45 minutes — perfect for any busy week day. 
The main protein in this one-pot recipe is shrimp, however you can use a myriad of seafood options like lobster, clams or mussels, but shrimp is a hearty, crowd-pleasing and affordable option. The shrimp is accompanied by pantry staples that lend bold flavors such as sweet onion, garlic, dried oregano and plenty of crushed red pepper flakes. Start conservatively with ¾ teaspoon — even this will put the "devil" in Diavolo. You can always sprinkle more on top if you're feeling brave! And if you like things extra spicy, try some sliced Calabrian chiles in lieu of pepper flakes.
I like to serve this flavorful dish with warm crusty bread for sopping up all of the liquid, but it's great over rice, hearty grains or any starch that will absorb the sauce. Take it one step further and cook a box of spaghetti or linguine and toss it into the warm sauce. Pro tip: save some of the pasta water and add a little at a time to the skillet — this will help the sauce evenly coat each strand of pasta.
Technique Tip: Don't overcook your shrimp! Searing the shrimp quickly over a moderately high heat will ensure they don't turn rubbery. 
Swap Option: Chop up fresh tomatoes (or use whole cherry tomatoes) when they're in season. Add about ¼ cup more water to compensate for the extra liquid in the canned tomatoes. 
Preparation
1.
Heat oil in a large straight-sided skillet over medium-high. Pat shrimp dry and season with 1½ teaspoons salt and ¼ teaspoon pepper. Add to skillet in a single layer and cook, flipping once, until shrimp turn pink and begin to curl, 1 to 2 minutes. Transfer to a plate.
2.
Reduce heat to medium and add onion, garlic and ¼ teaspoon salt to the skillet. Cook, stirring occasionally, until softened, 6 to 7 minutes. Add oregano and red pepper flakes; cook until fragrant, about 1 minute. Stir in tomatoes, clam juice, water and ½ teaspoon salt. Bring to a gentle simmer and cook, stirring occasionally, until sauce thickens slightly, 18 to 20 minutes.
3.
Remove from heat and stir in lemon juice and parsley. Serve with bread and lemon wedges.
How to shop TODAY recipes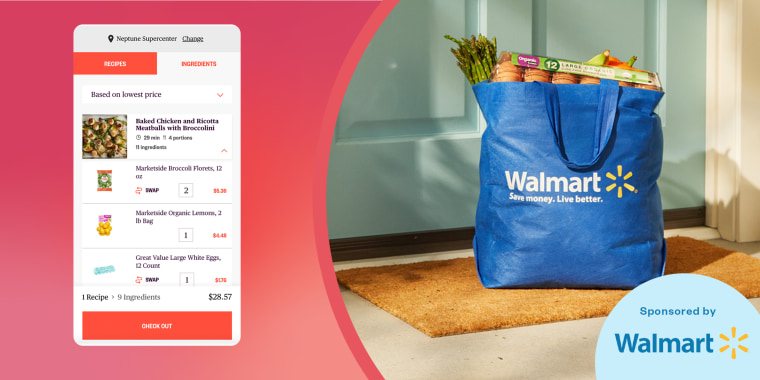 Here's everything you need to know about the cool new feature.