Ingredients
1/2

cup all-purpose flour

1/4

cup grated Parmesan cheese

1

teaspoon garlic powder

1

teaspoon onion powder

1/2

Teaspoon lemon zest, divided
kosher salt and freshly ground black pepper

4

bone-in skin-on chicken thighs
3

tablespoons extra-virgin olive oil

1

10.2 ounce can cream of chicken soup

1 1/3

cup chicken stock

3/4

cup long-grain white rice

2

garlic cloves, minced

1

lemon, sliced into rounds
thinly sliced basil, for garnish (optional)
Chef notes
The perfectly creamy rice with the hint of citrusy lemon along with the tender delicious chicken thighs makes this recipe such a wonderful dish for Sunday supper or during the week to celebrate something special. It is truly a crowd pleaser.
Swap Option: Cream of mushroom is a great sub for cream of chicken soup in this recipe. 
Technique Tip: I don't recommend using chicken breasts because of the long baking period, which could dry them out.
Preparation
1.
Preheat the oven to 375 F. Grease an 11-by-7-inch baking dish with cooking spray.
2.
In a large shallow bowl, whisk together flour, Parmesan, garlic powder, onion powder and half of the lemon zest. Season generously with salt and pepper and whisk. Dredge each piece of chicken on all sides with flour mixture. Set aside.
3.
In a large skillet set over medium-high heat, heat olive oil until shimmering but not smoking. Add chicken skin side down, and sear until golden, 6 minutes. Flip and cook until the opposite side is golden, about 6 minutes more. Remove from the pan and set aside.
4.
Combine soup, stock, rice, garlic and remaining lemon zest in the prepared baking dish. Place the chicken on the rice mixture and layer lemon slices over the top of each piece. Cover the baking dish with aluminum foil.
5.
Bake for 40 to 60 minutes, or until the chicken is done and the rice is tender. To develop a deeper color, uncover the dish for the last 5 to 10 minutes of baking. Garnish with basil. Let stand for 10 minutes. Stir the rice and season to taste before serving.
How to shop TODAY recipes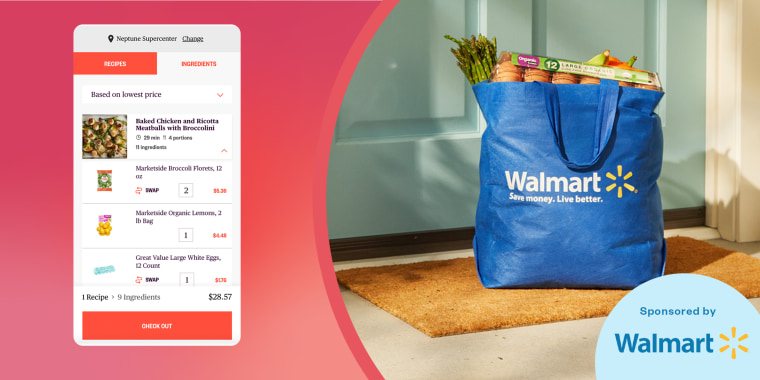 Here's everything you need to know about the cool new feature.