Ingredients
1

tablespoon olive oil

1

small sweet or yellow onion

1

celery stalk

1

zucchini

3/4

teaspoon salt

4

cups chicken or vegetable broth
1

pound baby yellow or red potatoes

1

red bell pepper

2

cups fresh corn kernels

1/4

cup heavy cream
parsley leaves
Bread for serving (optional)
Chef notes
Looking for a healthy, light soup that's thick and creamy but not too heavy? This is the one! This one-pot vegetable chowder is packed with fresh veggies and uses only a touch of cream for texture.
Preparation
1.
Heat the oil in a medium (3-4 quart) stockpot or Dutch oven over medium heat.
2.
Stir in the onion, celery, zucchini and 1/2 teaspoon salt. Cook, stirring frequently, until the vegetables are very soft and translucent, about 10-12 minutes.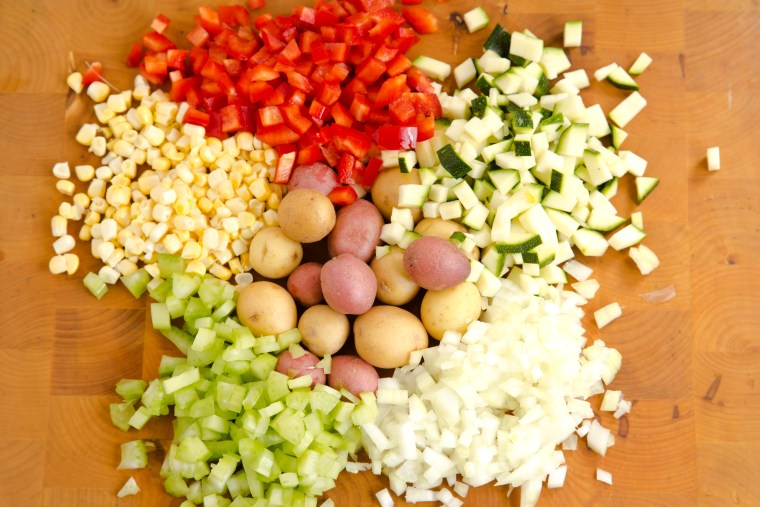 3.
Transfer the cooked vegetables to a blender and purée with the broth until smooth, or remove the pot from the heat, add the broth, and carefully purée in the pot with an immersion blender.
4.
Return the purée to the pot and place over medium-high heat. Bring to a boil, add the potatoes and bell pepper, and cook until the potatoes are just tender, about 10-12 minutes more.
5.
Add the corn and cream (if using) and cook just until the corn is warmed through, about 2-3 minutes for fresh corn and 4-5 minutes for frozen corn.
6.
Taste and add more salt to your taste. Divide between 6 bowls; sprinkle with parsley and serve with crusty bread if desired.