Ingredients
Marinara sauce
1

medium yellow onion

1

(28-ounce) can crushed tomatoes

1

(28-ounce) can diced tomatoes

2

teaspoons Italian seasoning

1

teaspoon garlic powder
½

teaspoon kosher salt

½

cup water

¾

pound thin spaghetti noodles

2

tablespoons chopped fresh basil leaves, to garnish (optional)
Meatballs
1

pound ground veal

1

pound 90 percent lean ground beef

3

large eggs

1

cup plain panko bread crumbs
½

cup grated Parmesan cheese, plus more to serve if desired

2

teaspoons Italian seasoning

½

teaspoon kosher salt

¼

teaspoon ground black pepper
Chef notes
You may have extra meatballs leftover to utilize into a meatball sub sandwich or two for lunch. Also, note that you can always make your own Italian seasoning: combine 1 tablespoon each of the following dried spices: thyme, basil, oregano, rosemary, and marjoram.  
Preparation
1.
Into the bowl of a large slow cooker (like 6-quart), add chopped onion, crushed tomatoes, diced tomatoes, and spices. Stir to combine.
2.
In a large bowl, add all the meatball ingredients. Using either your hands or a spatula, mix until thoroughly combined. Form into large meatballs, about the size of a golf ball (roughly about 20 meatballs). Position them into the marinara sauce the best you can, trying to get them all into the sauce, if possible.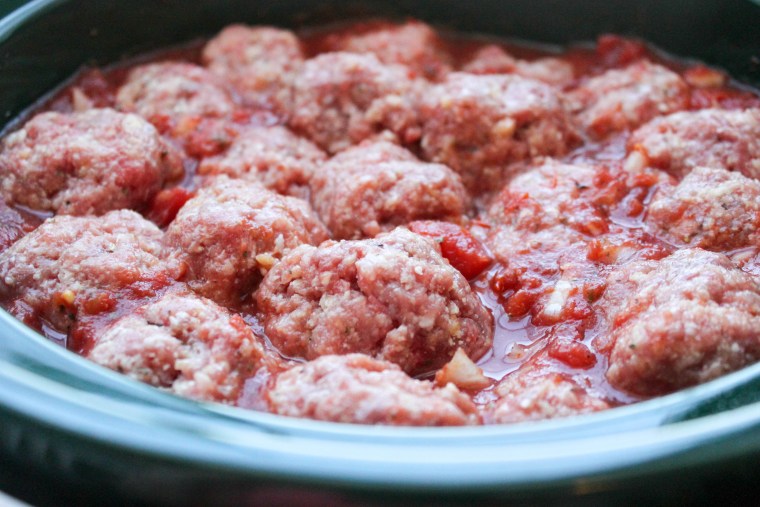 3.
Cover the slow cooker with a lid and cook until the meatballs are cooked through, about 4 hours on a HIGH setting or 8 hours on a LOW setting.
4.
When the meatballs are done, use a slotted spoon to transfer meatballs from the slow cooker into a bowl. Cover meatballs with foil to keep warm. If the slow cooker isn't on a HIGH setting, turn it to HIGH. Into the slow cooker bowl, stir in ½ cup water and ¾ pound thin spaghetti noodles broken in half. Make sure the spaghetti noodles are submerged in the sauce. Cover with lid and cook until the noodles are just soft, about 20 to 30 minutes. Keep your eye on the noodles—the cooking time depends on the heat of your slow cooker, and they can get mushy if left to cook too long.
5.
Transfer noodles and marinara sauce onto a platter and top with reserved meatballs. Sprinkle with basil, if desired, and Parmesan cheese. Serve.