Ingredients
Cake
1

stick (8 tablespoons) unsalted butter, softened, plus more for greasing the pan

1 1/2

cups rolled oats

3/4

cup all-purpose flour

1

teaspoon baking soda

1/2

teaspoon kosher salt
2/3

cup packed light brown sugar

2

eggs

1

cup applesauce

1

teaspoon vanilla extract
Crumble
3/4

cup rolled oats

1/2

cup pecan halves, chopped and toasted

1/3

cup packed light brown sugar
3

tablespoons unsalted butter, melted

1/2

teaspoon ground cinnamon
Chef notes
Making a crumble is so easy and perfect for topping cakes, yogurt, fruit and more. Kelsey Nixon, star of Cooking Channel's "Kelsey's Homemade" shares a delicious cinnamon-pecan crumble to top an oatmeal cake.
Preparation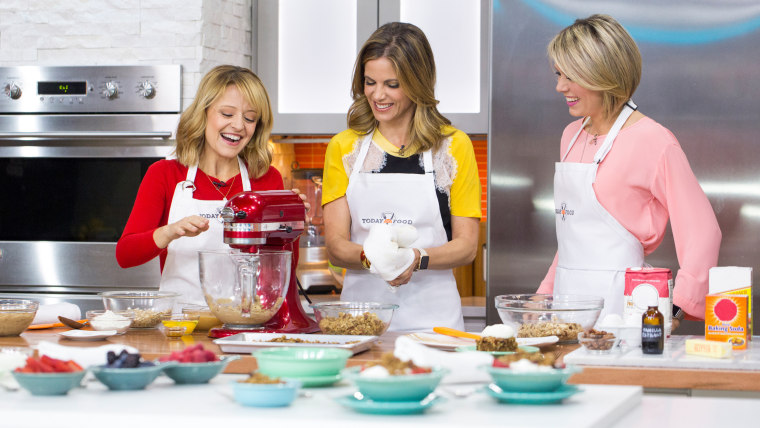 For the cake: Preheat the oven to 350 degrees F. Grease an 8-by-8-inch pan with butter.
In a mixing bowl, whisk together the oats, flour, baking soda and salt.
In a separate mixing bowl using an electric mixer on medium speed, cream together the butter and brown sugar until light and fluffy. Add the eggs 1 at a time, mixing well after each addition. Mix in the applesauce and vanilla. Reduce the mixer speed to low and slowly add the flour mixture, mixing until combined. Transfer to the prepared pan.
For the crumble: In a mixing bowl, stir together the oats, pecans, brown sugar, butter and cinnamon until crumbly. Sprinkle the mixture evenly over the cake batter.
Bake until set in the center, about 40 minutes. Let cool for 15 minutes before serving.