Ingredients
For the Crust
8

ounces graham crackers

2

tablespoons granulated sugar
pinch of kosher salt

8

tablespoons unsalted butter, melted
For the Filling
16

ounces full-fat cream cheese, room temperature

1/2

cup granulated sugar

1

tablespoon lemon zest
1/2

cup fresh lemon juice

1¼

cups heavy whipping cream

1/2

cup powdered sugar
For the topping
16

ounces fresh strawberries, sliced

2

tablespoons granulated sugar

1/4

cup Pimm's No. 1
1

teaspoon orange zest

2

tablespoons orange juice
fresh mint leaves
Chef notes
This vibrant, lemony cheesecake is the ideal make-ahead dessert for warm-weather gatherings. The crust and filling require no oven time; they set up entirely in the refrigerator. It takes inspiration from a Pimm's Cup, a summer-staple cocktail popular in Great Britain made from Pimm's No. 1, a gin-based liqueur, and fizzy lemonade that's lavishly garnished with sliced strawberries, orange, cucumber and mint and served over lots of ice.
Just like the cocktail, this cheesecake is tart-sweet and refreshing (as in, it's easy to have seconds). It's full of bright lemon flavor, with a generous amount of juice and zest in the filling, and crowned with Pimm's-macerated strawberries, orange zest and mint. It gets its creamy, airy texture from whipped cream that's folded into the cream cheese filling, making it far lighter than traditional cheesecake or other cream pies. 
In fact, think of it as a two-in-one recipe—a really good, foolproof version of no-bake lemon cheesecake and a fun, boozy strawberry topping that can be spooned over so many desserts (pound cake, ice cream and panna cotta to name a few). 
The cheesecake can be made several days in advance and easily served to those who imbibe and those who don't. Just make a separate batch of strawberries macerated in sugar and orange juice for an alcohol-free alternative.
Swap Option: If you don't have a 9-inch springform pan, use a 8-inch springform pan (and press the graham cracker crumbs all the way up the sides) or a 10-inch store-bought graham cracker pie crust.
Swap out an equal amount of Biscoff cookies for graham crackers, but reduce the butter to seven tablespoons since Biscoffs absorb butter differently than graham crackers.  
Play around with the citrus filling: lime, orange, and/or grapefruit are all delicious options.
Preparation
1.
Grease a 9" springform pan with cooking spray. Line the bottom with parchment paper.
2.
Make the crust: Mix the graham crackers, sugar and salt in the bowl of a food processor until finely ground. Add the butter and process until the mixture holds together. (Alternatively, place the graham crackers in a plastic, sealable bag and crush with a rolling pin, then mix together with the sugar, salt and melted butter in a bowl.) Transfer the crust mixture to the prepared pan. Using your hands or the bottom of a glass, press the crumbs evenly over the bottom and about halfway up the sides of the pan. Stick the crust in the freezer for at least 10 minutes, or until firm to the touch.
3.
Make the filling: Combine the cream cheese, granulated sugar and lemon zest in the bowl of a stand mixer fitted with the paddle attachment. Beat on medium speed until smooth and creamy, about 1 minute, scraping down the sides as needed.
4.
Add lemon juice and mix until well combined, another 20 to 30 seconds. It'll look a little lumpy at first but will quickly smooth out.
5.
In a separate mixing bowl, whip heavy cream and powdered sugar on high speed using a whisk attachment until stiff peaks form.
6.
With a spatula, gently fold in half of sweetened whipped cream into the cream cheese mixture, then fold in the rest until just integrated.
7.
Pour the filling into the chilled crust and smooth the top. Cover and refrigerate for about 6 hours before serving. (If running short on time, freeze the cheesecake for 3 to 4 hours, then transfer to the fridge.)
8.
Make the topping: In a bowl, toss the strawberries, sugar, Pimm's No. 1, orange zest and orange juice together. Let macerate for at least 30 minutes, or up to 8 hours, in the refrigerator.
9.
To serve: Unlatch the sides and cut into wedges. Once plated, spoon the berries and syrupy juice over each slice, garnishing with a few mint leaves.
How to shop TODAY recipes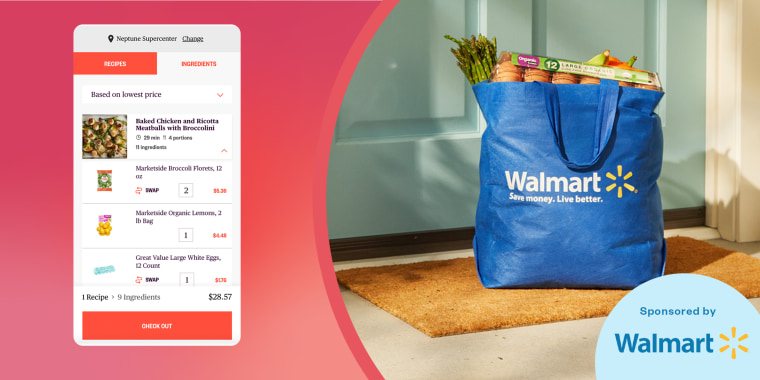 How to shop TODAY recipes
Here's everything you need to know about the cool new feature.
Learn More