Chef notes
Like most other people, I try to maintain a healthy diet. This dish came about as a way to satisfy pasta cravings in a more nutritious way, and this recipe is a product of trial and error. It's one of my favorite original recipes!
Ingredients
Zucchini noodles
4

yellow and green zucchini

1

tablespoon olive oil
Salt and pepper

1/4

cup Parmesan cheese, plus more for topping
Vegetable saute
1

tablespoon olive oil

4

Italian chicken sausages

1

cup cherry tomatoes

1

package cremini mushrooms
2

cans cannelloni beans

1/4

onion
Salt and pepper
Pesto
1

clove garlic

2-3

cups fresh basil

¼

cup pine nuts
¼

cup olive oil
Salt and pepper
Preparation
Cut the ends off the zucchini and put through a spiralizer or use a vegetable peeler so you get long spaghetti-like strands. Set aside.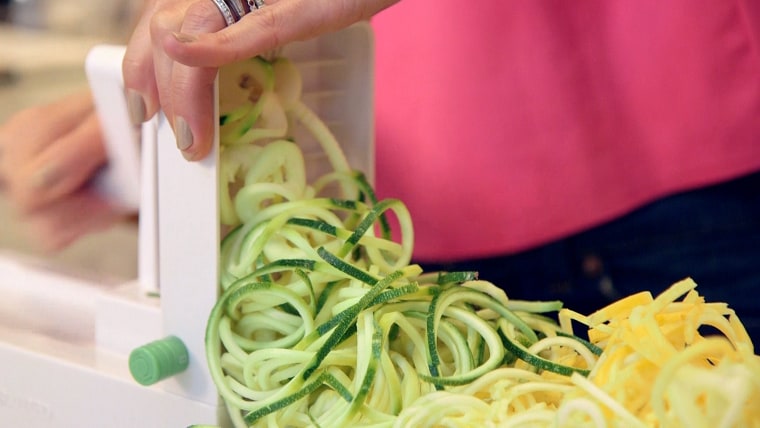 Add garlic, basil, pine nuts and olive oil into a food processor. Add salt and pepper to taste. Set aside. COOKS NOTE: Most pesto recipes call for you to add parmesan at this point, but I like to add it at the very end so you can really taste the parmesan and use less of it.
Heat up a skillet on medium heat and add 1 tablespoon of olive oil. Cook chicken sausage until browned, turning occasionally, about 8 minutes.
Add mushrooms, tomatoes and onions to sausage in the skillet. Stir until combined.  It will create almost a stew. Once vegetables are cooked through, add beans and salt and pepper to taste.
Heat another large skillet and add a tablespoon of olive oil. Once heated, add the zucchini noodles, stirring occasionally. Saute until zucchini is slightly softened, about 6 minutes.
Add pesto to zucchini and stir until noodles are evenly coated. Add parmesan cheese to zucchini and a touch of salt, if desired. Lower the heat.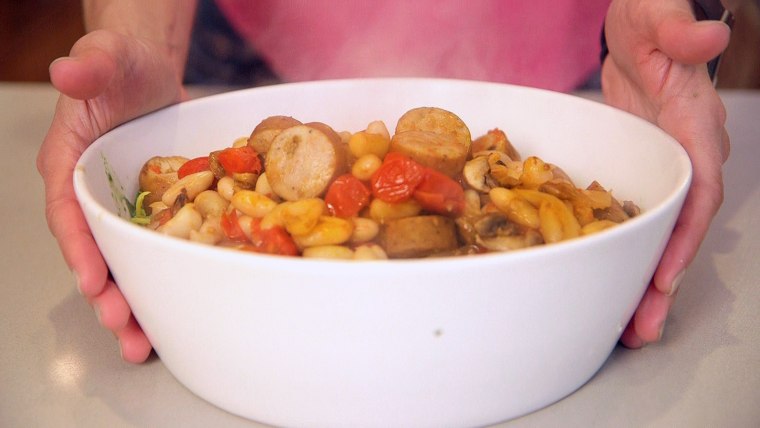 Put noodles in a large serving dish and top with vegetable mixture. Give it a toss, and top with more parmesan cheese, if desired.