Ingredients
Chicken stew
6

chicken breasts

1

cup onion

1

potato

2

stalks celery

1

cup frozen corn or 1 ear fresh corn, off cob

1

cup fresh green beans

2

large carrots
1

cup frozen peas

2

10-ounce cans cream of chicken soup

1/2

cup water

1

15-ounce can chicken stock

1

teaspoon fresh thyme
Salt and pepper, to taste

¼

cup green onions
Dumplings
2

cup Bisquick mix

2/3

cup milk
1

teaspoon chopped dry chives
Chef notes
You can't go wrong with this classic — It's pure comfort!
Preparation
Season chicken breasts with salt and pepper and add to crockpot. Add chicken soup, water and stock. Layer in onions and potatoes.  Cook for one hour on HIGH, and then add the carrots, celery, corn, green beans and thyme for the final three hours. Total cook time will be 4 hours.
Meanwhile, make the dumplings. Add milk to the Bisquick and knead the dough. Add chives. The consistency should be slightly gummy but not too wet. When there's 20 minutes left in the cook time, add the peas and green onions. Then drop the dumpling dough by the spoonful into the stew and let cook for 20 minutes, until they're cooked inside. The dumplings will rise to the top.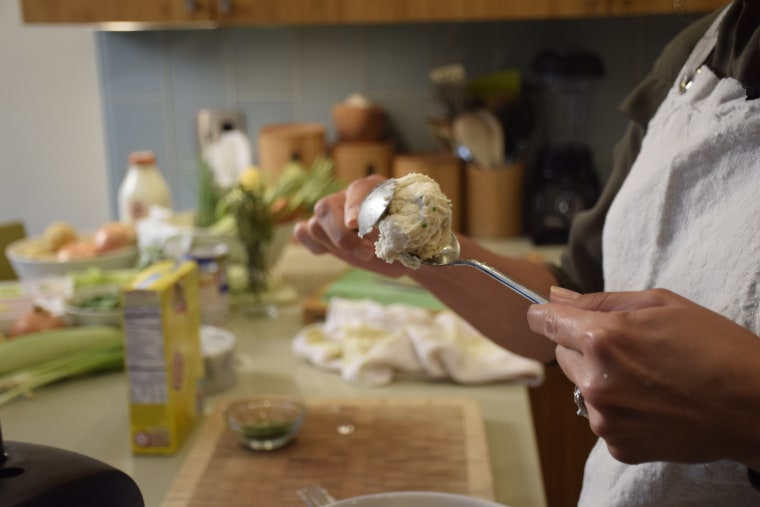 Note:  Dumplings should be about a spoonful each in size as they will expand a bit while cooking in broth. Ideally, you'd want one dumpling per serving, at least.
Serve the stew in a bowl with the dumpling on top.