Chef notes
Typically this is an all-day Saturday cooking extravaganza in which families and friends get together around the table to share a good feijoada served with garlic sautéed kale and a caipirinha (Brazilian mojito-like drink). It is a relatively dense meal.
Ingredients
2

cups dried black beans

2

slices thick-cut smoked bacon

1

pound boneless pork shoulder

2

pounds beef short ribs, bone-in

1

pound dried chorizo or dried beef

3

cups onion

2

cups red and green bell peppers
4

cloves garlic

1

½ cups low-sodium chicken or beef broth

½

pound smoked ham hock
Salt and pepper to taste

1

tablespoon white or cider vinegar
Goya Saizon
Sauteed kale
2

bunches kale

2

tablespoons cooking oil
Preparation
Drain beans and rinse. Add to a 6-quart slow cooker. *If no time to soak beans overnight, alternate method is as follows: Cover dried beans with cold water, bring to a boil and cook for 2 minutes.  Cover and let stand off heat for 1 hour. Drain and proceed with recipe.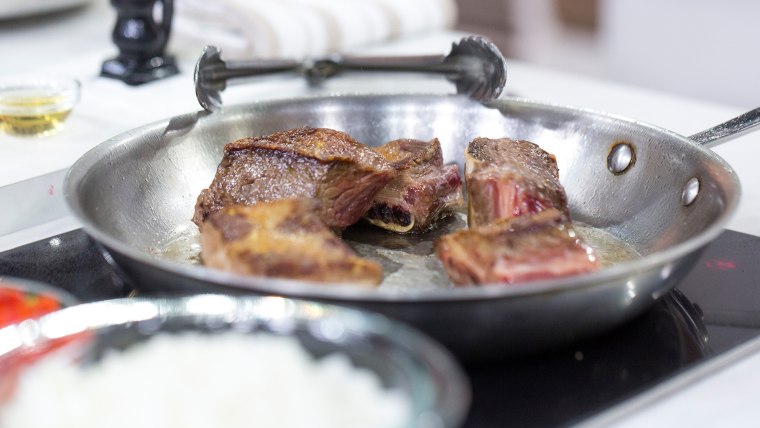 Cook bacon in a large skillet until crisp.  Place on paper towel-lined plate and set aside. Return skillet to burner with bacon drippings still in it. Sprinkle pork with salt and add to skillet over medium-high heat and cook until browned.  With a slotted spoon, transfer pork to slow cooker, leaving most fat still in pan.
Sprinkle ribs with salt and cook in same skillet until browned, 2-3 minutes per side.  Transfer to slow cooker.  
Add chorizo to skillet and cook until lightly browned, 2-3 minutes. Transfer to slow cooker with slotted spoon.  Drain half the fat from the pan and return pan to burner.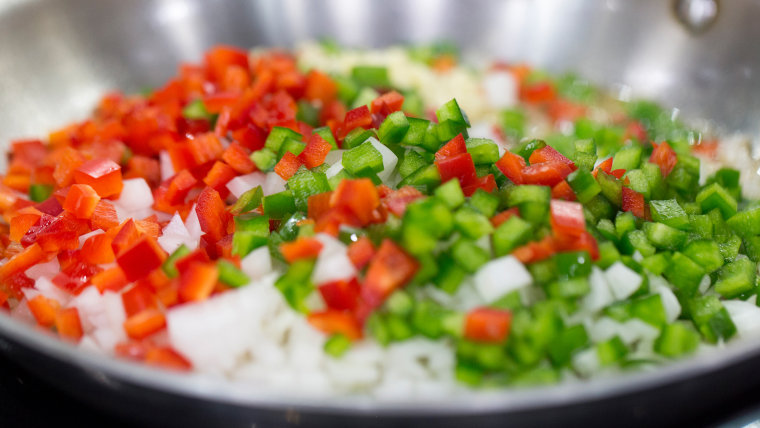 Add onions to the same skillet over medium heat and cook without browning, 2-3 minutes.  Add peppers and garlic and cook another minute, stirring frequently.  Transfer to slow cooker.
Season contents of slow cooker with pepper.  Add broth and ham hock if using and stir everything well.  Cover slow cooker and cook on LOW for 6-8 hours, or until meat and beans are tender. 
Remove ribs from slow cooker and let sit until cool enough to handle.  Remove bones and discard. Shred or chop meat and add back to slow cooker, along with vinegar and reserved cooked bacon.  Serve hot over white rice with orange wedges on the side.  Serve sauteed kale on the side if desired.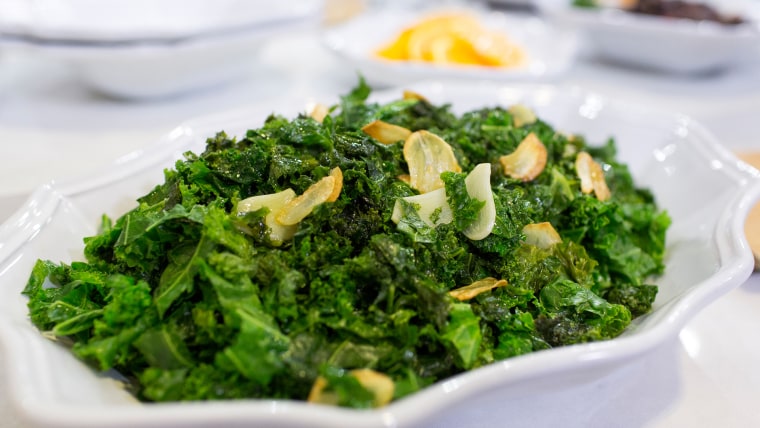 Sauteed Kale
Heat a large, deep skillet over medium-high heat and add oil. Add as much kale as will fit and sprinkle with a little salt. Cook until wilted down enough to add more kale, along with a bit more salt. Repeat until all kale is in pan and just cooked through. Stop cooking while kale is still bright green. Transfer to serving bowl.