Ingredients
Dough
1 1/3

cups all-purpose flour

1

tablespoon sugar

1/2

teaspoon salt

1

tablespoon apple cider vinegar
1

stick unsalted butter, cut into 24 little cubes and kept chilled

2

teaspoon lemon juice

1/2

teaspoon lemon zest

1/4

cup ice water
Filling
2

apples, such as pink lady or granny smith, thinly sliced

1

pear

1/2

cup walnuts, chopped

2

tablespoons brown sugar

2

tablespoons lemon juice
2

tablespoons corn starch

1

teaspoon cinnamon

1/2

teaspoon nutmeg

3

tablespoons fig preserves

1-2

teaspoons sugar
Chef notes
This is an easy dessert that I love making. The beauty is that it doesn't have to be perfect, it's rustic, after all! It's also easy to customize. You can make it with any fruit or even go for a savory version to serve for brunch.
For the dough, CHILLED ingredients are key - it may sound crazy but if you chill your flour in addition to the vinegar and butter prior to mixing - it's even better!
Preparation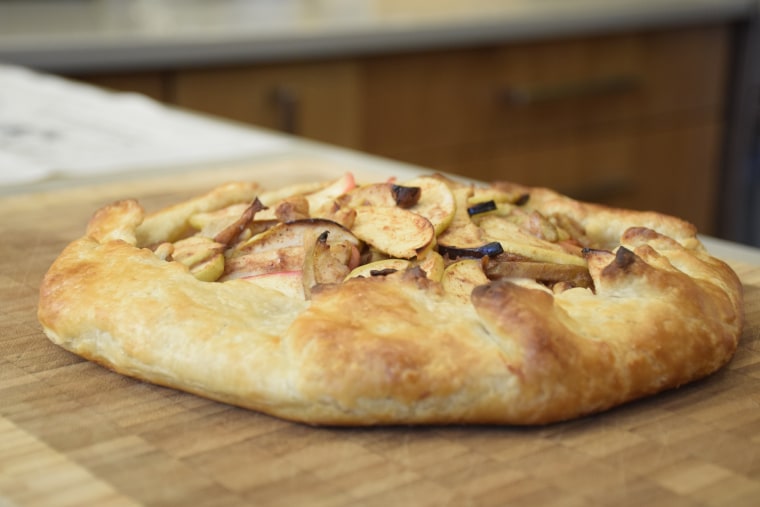 1.
In a food processor, combine flour, sugar and salt by pulsing 2-3 times.
2.
Add cold cubed butter to food processor and pulse just until the mixture looks like pebbly sand. Some large pea-sized pieces of butter are good. Do not over process!
3.
Add the lemon zest and juice and apple cider vinegar. Pulse. Spoon in ice water slowly, use just enough that the dough comes together when you pulse. 
4.
Dump the dough out on to a floured surface. And form into a disc. Wrap it in plastic and refrigerate for at least 2-3 hours.
Make the filling. 
Preheat the oven to 450F. Toss the fruit, nuts, sugar, lemon juice, cornstarch, cinnamon, and nutmeg together until well-combined. Set aside.
Roll dough into a 12-inch circle and place on parchment paper. Spread the fig jam in a thin layer onto the dough, leaving a small border, about an inch. Pile the fruit on top of the dough, leaving a 2-inch border. 
Using the parchment paper to help lift the dough, bring up the sides of the dough to form a rough, crust/edge around the fruit, pleating if needed. This does not have to be perfect — it is rustic!
Brush the outer folded up edges of the crust with an egg wash made with the egg and 2 teaspoons of water. Sprinkle the whole galette, dough and fruit, with the 1 -2 teaspoons of sugar
Bake in a pre-heated oven (on a parchment lined flat cookie sheet) for approximately 30 minutes, until the crust is evenly golden.
Let cool for 15 minutes or so on the sheet tray. Then slide the parchment with tart onto a cooling rack until ready to serve.