Ingredients
6

ounces jumbo pasta shells

2

tablespoons extra-virgin olive oil

1

tablespoon fresh minced garlic

1

medium onion, peeled and diced

5

portobello mushroom caps, gills removed and diced

1/8

teaspoon sea salt, plus more to taste
freshly ground black pepper, to taste

2

cups shredded kale
15

ounces part-skim ricotta cheese

1/4

cup pesto

2

teaspoons thyme

1

teaspoon oregano

1½

cups marinara sauce

1½

cups reduced fat mozzarella cheese
fresh chopped parsley, for garnish
Chef notes
This is a kid-friendly dish to make — and one that your little ones can help out with, too. Let them help you fill the stuffed shells with the mushroom, kale and ricotta filling. For more heft, add a lean protein such as ground turkey.
Swap Option: Instead of using thyme and oregano, swap with Italian seasoning. For a vegan version, use store-bought cashew ricotta and your favorite vegan mozzarella.
Preparation
1.
Preheat the oven to 420 F.
2.
Bring a pot of salted water to boil. Cook pasta shells according to the package instructions given. Drain, then set aside.
3.
Meanwhile, heat a heavy-bottomed pot such as a Dutch oven over medium heat. Add oil, garlic, onion mushrooms, salt and pepper and stir to combine, cooking until onions turn brown and the mushrooms shrink in size, 3 to 5 minutes. Transfer the mixture to separate bowl and set aside.
4.
 In the same Dutch oven, add shredded kale and a few tablespoons of water to create steam. Toss the kale in the pot until it turns a vibrant green color. Set aside.
5.
In a large bowl, combine ricotta cheese, mushroom mixture, sautéed kale, pesto, thyme and oregano.
6.
In a casserole dish, spread about ½ cup of the marinara on the bottom. Then one by one, stuff a pasta shell with about 2 tablespoons of the ricotta mix, then add it to the dish. 
7.
Cover the shells with the remaining marinara and mozzarella cheese. Cover with foil and bake for 20 minutes. For the final 5 minutes, remove the foil so the mozzarella can brown. Sprinkle with freshly chopped parsley just before serving.
How to shop TODAY recipes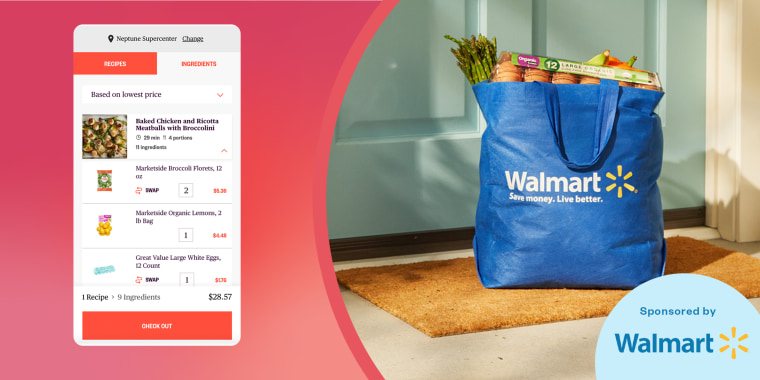 How to shop TODAY recipes
Here's everything you need to know about the cool new feature.
Learn More