Ingredients
1

small red bell pepper, chopped

1

small yellow onion, chopped

1

carrot, chopped

1

cup white quinoa

1

cup green wheat freekeh (whole-grain or cracked; see Cook's note, below)

1/4

cup frozen English peas
1/4

cup golden raisins

1/2

cup oatmeal
Salt
Ground cayenne pepper

2

tablespoons olive oil
Vegetable oil
Chef notes
Cook's note: Packaged versions of both cracked and whole-grain freekeh are also sold by companies like Bob's Red Mill
Preparation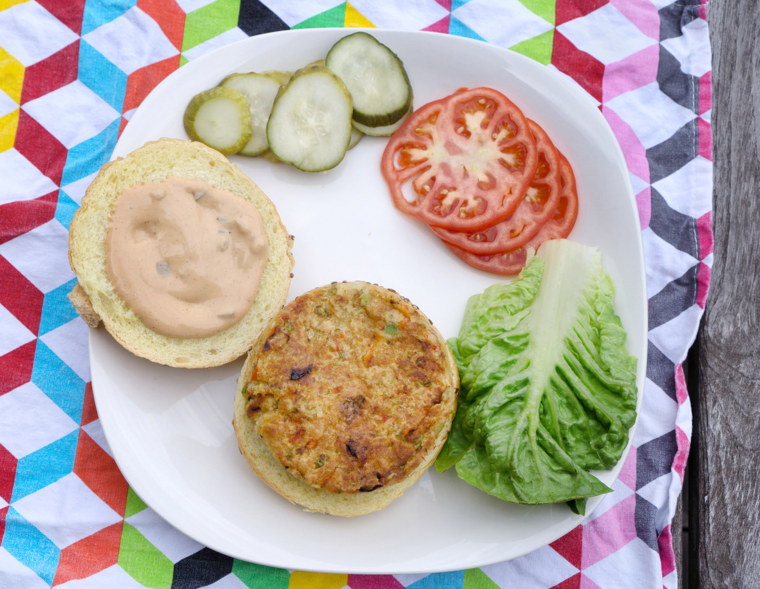 In a pot, sauté the pepper, onion and carrot in 2 tablespoons of olive oil until soft, about 5 minutes. Add 3 cups of water and the quinoa and bring the mixture to a boil. Then turn down the heat and simmer, covered, for 20 minutes (if all water is not fully absorbed, remove lid and continue cooking until it is, checking frequently).
In a separate pot, if using whole grain freekeh, add it and 3 cups of water and bring to a boil, stirring occasionally. Turn down heat to simmer, cover the pot with a tight-fitting lid and simmer until water is fully absorbed, about 50 to 60 minutes. (If using cracked freekeh, cook according to package instructions.)
Place oatmeal in a spice grinder or food processor fitted with the metal blade and grind until the mixture resembles flour. Reserve in a small bowl.
Once the grains have absorbed all the water and are fully cooked, combine and blend in the peas, raisins and a quarter cup of the oatmeal mixture. If the mixture seems too moist and does not hold together when you form a small amount into a ball, continue to add oatmeal in tablespoon increments. 
Alternatively, if the mixture seems too dry, add water in tablespoon increments.
Add salt and cayenne pepper to taste. Form into patties and freeze for at least 4 hours and up to 3 months.
Heat the grill to medium high. Brush a 10 or 12-inch cast-iron skillet with one tablespoon of vegetable oil and place empty skillet on the grill grate for 5 minutes.
Place burgers in the skillet and close the grill lid. Cook for about 3 minutes per side. Burgers are ready when a crispy, golden-brown crust has formed on the outside.
Place grilled burger on a bun and garnish with toppings like lettuce, red onion and grilled tomatoes. A pita pocket also works well if the burger has a slightly crumbly texture.