Ingredients
1

tablespoon extra-virgin olive oil, plus more for drizzling

2

pounds 90-95% lean ground beef

1

yellow onion, peeled and finely chopped

2

cloves garlic, peeled and minced
kosher salt and freshly ground black pepper

1

(10-ounce) bag frozen broccoli florets

4

tablespoons unsalted butter

1/3

cup all-purpose flour
2

teaspoons dried oregano

1/4

teaspoon crushed red pepper flakes

2

cups low-sodium chicken or vegetable broth

3/4

cup marinara sauce, store-bought or homemade

1/2

cup sour cream

1

(24-ounce) box frozen breaded mozzarella sticks

1/4

cup fresh basil leaves
Chef notes
Hotdish is a dinner time staple across the country, but mainly throughout the Midwest — and it's a proven hit for a reason. A mixture of ground beef, veggies and a can of creamy soup are topped with a starch (usually crispy tater tots) to create an easy, hearty and delicious weeknight casserole. What's better than tater tots, you ask? Mozzarella sticks, of course! Oozy mozzarella sticks add something crunchy to scoop into just like the tater tots, but they have the added benefit of being filled with cheese, which no one is going to turn down! 
Hotdish is traditionally made with ground beef, since it is an affordable protein. Meat eaters can opt for ground pork, turkey, or chicken, and vegetarians will be pleased to know that plant-based meat options (like Impossible Foods and Beyond Meat) are a seamless substitute. For this take on hot dish, we are leaning into what makes mozzarella sticks great — namely, their dipping sauce. No mozzarella stick appetizer would be complete without a bowl of warm marinara sauce. Pre-made marinara, sour cream and plenty of herbs and spices go into the luscious bechamel base of this casserole. This is meant to mimic the usual can of soup, with an added Italian flair. For ease (and a quick hit of fiber), a whole bag of frozen broccoli florets are steamed for just a few minutes with the mixture before it makes its way into the oven. Everything gets baked and bubbly, then topped with fragrant fresh basil leaves to finish. 
Technique Tip: Some hot dish recipes will call for a can of creamy soup as the base. We take it up a notch here with an easy creamy homemade sauce. 
Swap Option: Use any veggies (frozen or fresh) you like in lieu of broccoli, like green beans or peas. 
Preparation
1.
Preheat the oven to 450 F with a rack in the upper third. Heat oil in a large straight-sided skillet or braiser over medium-high. Add beef, onion, garlic, ½ teaspoon salt and ¼ teaspoon pepper. Cook, breaking up meat with the back of a spoon, until cooked through and browned in places, 8 to 10 minutes. Stir in broccoli, cover and cook until bright green and tender, about 3 minutes. Drain mixture and transfer to a large bowl; wipe pot clean.
2.
Melt butter in the same skillet over medium heat. Add flour, oregano, and red pepper flakes; cook, stirring often, about 2 minutes. Gradually whisk in broth and marinara sauce. Bring to a boil, then reduce heat and simmer, whisking occasionally, until thickened and darkened slightly in color, about 5 minutes. Remove from heat and stir in sour cream and ½ teaspoon salt. Add to bowl with beef mixture and toss to combine. Transfer mixture to a 2½ to 3-quart baking dish. Arrange mozzarella sticks in an even layer on top of the casserole and drizzle lightly with more olive oil.
3.
Bake until the top is golden brown and warmed through and filling is bubbling around the edges, 15 to 20 minutes. Let cool for at least 15 minutes before serving; top with basil.
How to shop TODAY recipes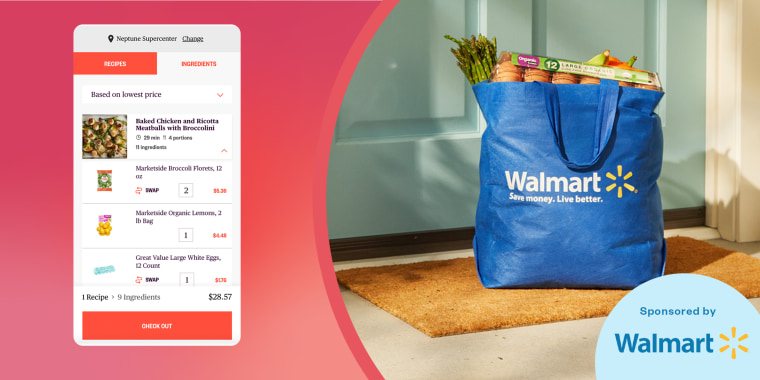 Here's everything you need to know about the cool new feature.