Ingredients
Crispy Fingerling Fries
16

fingerling potatoes, about 3 inches long, sliced lengthwise

2

tablespoons olive oil

1

teaspoon kosher salt
1/4

cup freshly grated Parmesan cheese

1

tablespoon fresh thyme leaves
Mussels
4

tablespoons unsalted butter

2

large shallots, peeled and minced

6

cloves garlic, minced

2

teaspoons kosher salt
1/2

bottle white wine (Chardonnay is good)

1/4

cup chopped parsley

3

pounds mussels, rinsed
Warmed, crusty baguette, for serving (optional)
Chef notes
When I lived in France for six months back in the summer of 2003, I worked 14-hour days—harder than I ever had in all my life. In the process, I discovered what a small piece of hell was like. At the end of it all, I took myself down to Biarritz in the Southwest of France to enjoy a week in the sun with my friend Eveanna. While there, I discovered a small piece of heaven in the moules frites or steamed mussels and fries. The mussels were so plump and fresh, and the fries were perfectly crispy and salty. They were so good, we ate them practically every night. This mussels recipe is my attempt to replicate that piece of heaven. It takes me right back to 2003.
For the fries, roasting fingerlings in the oven cuts out time, waste, and mess. You don't have to peel the potatoes, nor do you have to heat up a big pot of splatter-happy oil. All you have to do is rinse them off, slice them lengthwise, and pop them in the oven! These can also make a great appetizer with a garlicky aioli dipping sauce.
Preparation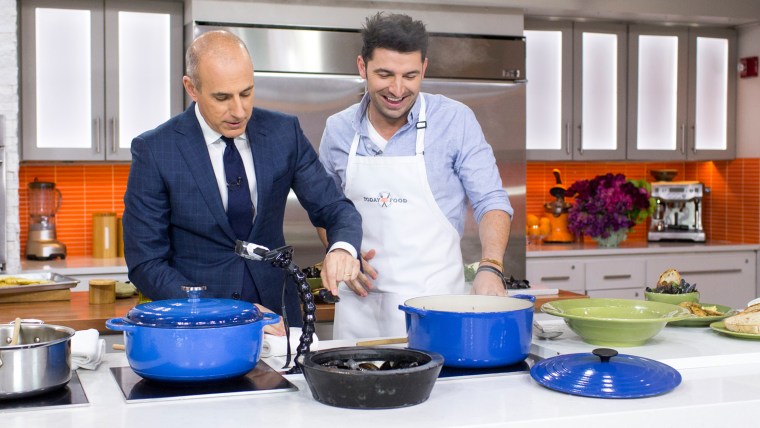 For the Crispy Fingerling Fries:
1.
Preheat the oven to 425˚F. Place a rimmed 18 x 13-inch baking sheet in the oven and heat up for 10 minutes.
2.
Meanwhile, toss the potatoes in a bowl with the olive oil and salt. Using your hands, mix well to make sure the potatoes are covered in the salted oil.
3.
Remove the piping hot pan from the oven and pour the potatoes onto the tray. They will begin to sear and cook. Shake the tray to ensure there is no overlapping.
4.
Roast in the oven for 25 minutes, tossing potatoes halfway through with a heatproof spatula.
5.
Remove the tray from the oven and let the potatoes cool for 5 minutes.
6.
Sprinkle the potatoes with the Parmesan and thyme leaves. Serve.
For the Mussels:
1.
When the fries are in their last 10 minutes of roasting, start to make the mussels. In a large pot or Dutch oven, melt the butter over medium heat. Add the shallots, garlic and salt. Cook for 4 minutes, until shallots are softened.
2.
Add the wine and parsley and bring to a boil.
3.
Add the mussels and give them a good stir so they become coated with the liquid. Place the lid on the pot and let the mussels steam for about 5 minutes, until the shells open up. Lift the lid off and give them another stir. Cook for 3 minutes longer.
4.
Serve in big bowls and ladle sauce into each. Serve with the Crispy Fingerling Fries and/or a warmed, crusty baguette.