Chef notes
Forget boring, bland pasta salad that's nothing but a vehicle for too much mayonnaise. The bright and tangy flavors of Mexican-style "street corn" add a fun twist to this summer party-ready version. Yes, there's a bit of mayonnaise in here, other ingredients such as lime juice, scallions and freshly minced cilantro all bring freshness to this pasta salad that helps to balance out the creamy elements.   
Serve this as a fun side dish at your next party or barbecue or make it a main by adding shredded chicken or black beans for protein. Prep it just before serving, or make it the night before and chill in the fridge for an easy and ready-to-go potluck recipe that will be an instant crowd pleaser at all your summer bashes. It's a win-win — in our opinion, the flavors get even better after sitting overnight. 
Techinque Tip: Don't have a grill? Char the corn indoors on a gas stove top by placing the corn directly on the flame and using tongs to turn. Or brush the kernels with olive oil and  broil in the oven. For less mess, use a Bundt pan to balance the corn and slice the kernels right into the receptacle.
Swap Option: Replace the chipotle pepper with a teaspoon of smoked paprika to maintain the smoky flavors without the heat. Use Mexican crema instead of sour cream to play up the street-corn flavors. If you're unable to find cotija cheese, other salty cheeses like crumbled feta or grated Parmesan will do in a pinch.
Ingredients
1/2

pound elbow macaroni
kosher salt, to taste

1

teaspoon olive oil

5

ears sweet corn, shucked

1/2

cup mayonnaise

3/4

cup sour cream or Mexican crema

1

chipotle in adobo, finely minced, plus 1 tablespoon adobo sauce from the can
1/2

teaspoon ground cumin

2

teaspoons ground chile powder, plus more for garnish

3/4

cup grated cotija cheese, crumbled feta cheese or grated parmesan, plus 1/4 cup for garnish

1

large lime, juiced (about 1/4 cup fresh juice)

2

scallions, finely sliced (green parts only)

1

cup fresh cilantro, finely minced, plus more for garnish
Preparation
1.
Bring a large pot of water to boil, salt generously and cook pasta according to box directions for al dente. Drain, then rinse under cold water to cool the pasta. Transfer pasta in a large serving bowl. Drizzle with olive oil, toss to coat and set aside.
2.
Set your grill to medium-high. Grill corn 7 to 10 minutes, turning often until charred throughout. Transfer to a cutting board and let cool.
3.
Cut the kernels from the cob and add to the bowl with the pasta.
4.
In a separate mixing bowl, whisk together the mayonnaise, sour cream, chipotle pepper and sauce, cumin, chile powder, 1 teaspoon kosher salt and lime juice.
5.
Add dressing to the pasta along with the cheese, scallions and cilantro. Mix well until evenly distributed. Taste and adjust seasoning, as needed.
6.
Garnish with remaining 1/4 cup cheese, cilantro and a sprinkle of chile powder. Serve immediately or cover and chill 8 hours or overnight. (If making in advance, wait until just before serving to add additional garnish.)
How to shop TODAY recipes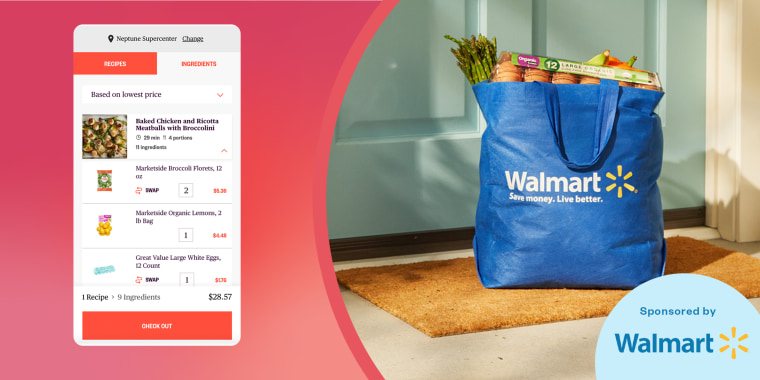 How to shop TODAY recipes
Here's everything you need to know about the cool new feature.
Learn More