Ingredients
2

tablespoons olive oil

2

pounds fresh spinach (about 3 big bunches), trimmed and chopped

4

scallions (white and light green parts only), sliced

1/2

head fennel, trimmed and chopped

1/4

cup chopped fresh mint or dill

1/4

cup chopped fresh parsley
Salt and black pepper

4

large eggs

1

cup crumbled feta cheese

1/2

cup part-skim ricotta cheese

1/2

pound filo dough (20 sheets), thawed to room temperature

1

cup (2 sticks) unsalted butter, melted
Chef notes
Serve this dish any time, at any temperature, for any occasion. Breakfast, brunch, lunch, appetizer or dinner—it's always a hit!
For ease in preparation, use fresh spinach. You can add the leaves to the skillet while still wet from washing. Frozen spinach contains too much water.
For mini-appetizers, drop a spoonful of the filling into prepared puff pastry shells and bake according to the package directions.
Always buy 2 pounds of filo so if it's dry, you have extra sheets. Always check the dates to ensure freshness. You can still use dry filo but it is harder to work with. Try to use unbroken sheets for the top layers so it looks pretty.
Preparation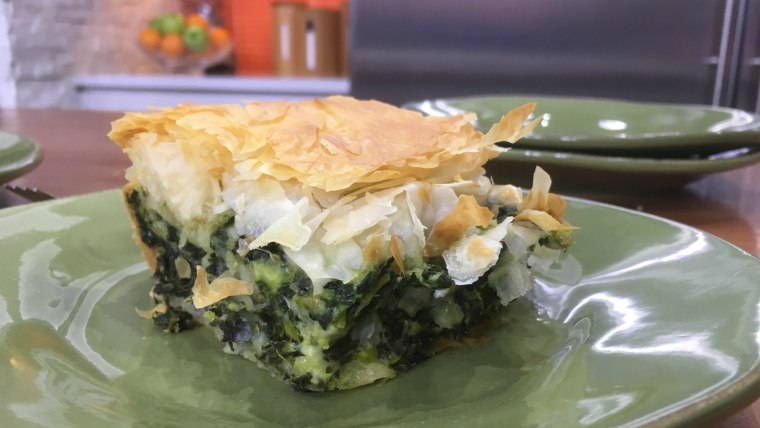 1.
Preheat the oven to 350°.
2.
Warm the oil in a large skillet over medium-low heat. Add the spinach, scallions and fennel; cook for 5 minutes, stirring. Stir in the mint, parsley and season with salt and pepper.
3.
In a large bowl, whisk the eggs, feta and ricotta until blended. Fold in the spinach mixture.
4.
Lay 1 filo sheet in the bottom of a 9- by 13-inch pan, letting the ends of the sheet hang over the edges of the pan. Brush well with the butter. Top with 9 more filo sheets, buttering between each sheet.
5.
Spoon the spinach filling over the filo and fold the overhanging edges over the filling. Place 10 more sheets of filo over the filling, brushing with the butter between each sheet.
6.
Butter the top sheet. Use a sharp knife to score the top of the pie to make it easier to cut after baking.
7.
Bake for 40 minutes, or until golden brown.
Reprinted with permission from The EveryGirl's Guide to Cooking by Maria Menounos, Penguin Random House.