Chef notes
If you thought oatmeal couldn't get any simpler, allow the slow cooker to enter the chat. This small countertop kitchen appliance is well known for being able to braise large pieces of meat and simmer soups and stews for hours, so you might be surprised to learn that it's the perfect tool to make big batches of hearty oatmeal. Prep one batch over the weekend and enjoy it all week long. 
This recipe takes breakfast back to the basics by slowly cooking oats with milk, then sweetening with maple syrup and a dash of cinnamon. Since this oatmeal is cooked almost all day in the slow cooker, we like to use steel-cut oats instead of instant or old-fashioned rolled oats. Steel-cut oats are less processed than the others and they take longer to cook, which is ideal for slow-cooked oatmeal. They are able to maintain a pretty firm, chewy texture even after cooking for hours.
If you'll be away from the kitchen for more than eight hours, you can use the slow-cooker's 'keep warm' function so it'll be ready when you are. If you use this function, the oatmeal has a tendency to continue to thicken as it sits, so feel free to stir in some more milk or water to loosen it up. 
The real beauty of this recipe is that it is a blank slate for other ingredients. Go simple with some fresh berries, sliced bananas and a drizzle of maple syrup. Or if you're more of an oatmeal maximalist, play around with some other fun toppings like dried fruit, chopped nuts, toasted coconut flakes, semisweet chocolate chips and dollops of yogurt.
Ingredients
For the Oatmeal
4

cups milk

3/4

cup maple syrup

1

teaspoon ground cinnamon
1/4

teaspoon kosher salt
nonstick baking spray

1½

cups steel-cut oats
Add-Ins
nonstick baking spray
brown sugar, maple sugar or additional maple syrup (optional)
chocolate chips (optional)
toasted shredded coconut (optional)
diced pears, apples or bananas (optional)
candied nuts such as walnuts or pecans (optional)
additional milk, if needed
Preparation
1.
In a large mixing bowl, whisk together the milk, maple syrup, cinnamon and salt.
2.
Spray the inside of your slow cooker generously and evenly with nonstick baking spray. 
3.
Spread the oats in an even layer across the bottom of the slow cooker, then add the liquid.
4.
Set the slow cooker to cook on low for 7 to 8 hours. 
To Serve
1.
Set out the toppings bar for your hungry, sleepy family. 
2.
Give the oatmeal a good stir in the slow cooker — it will be very thick. Loosen it up with additional milk as desired before serving.
3.
Let everyone serve themselves, adding as few or as many of their favorite toppings as they want!
How to shop TODAY recipes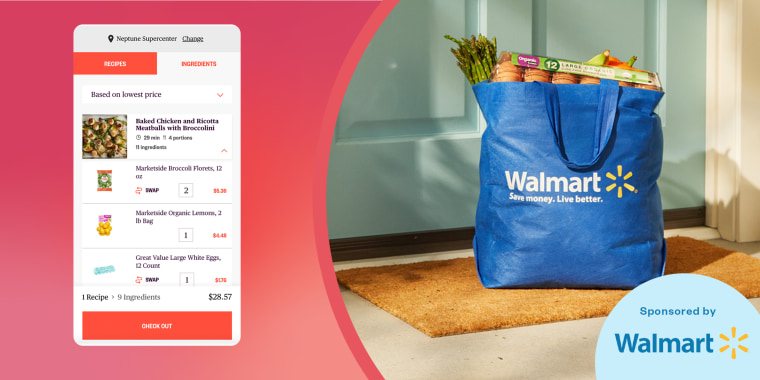 How to shop TODAY recipes
Here's everything you need to know about the cool new feature.
Learn More