Chef notes
Lettuce wraps are something we might pretend to love to hate, but let's all just be honest with ourselves: They're pretty darn good. Between the crisp, cold lettuce leaves and the savory filling, they make for a very satisfying snack, appetizer or light meal. If lettuce wraps are a must-order at your favorite restaurant and you have never considered making them at home, consider this easy recipe your invitation. Making lettuce wraps at home is way more friendly on your wallet than ordering them to-go and they can be customized to you and your family's tastes. 
The best part, though? The components for these lettuce wraps can be made ahead of time. Make a batch of the ground meat filling and prepare the lettuce leaves up to two days ahead of time. Store them separately in the refrigerator and when ready to serve, simply reheat the filling in a covered skillet over medium-low heat until warmed through, or heat in the microwave in minute-long increments, stirring between each to warm evenly. These lettuce wraps are the perfect party snack for this reason alone, since getting ahead means you can focus your attention on other things Or, if you're making them ahead to be packed for school or work lunches, know the filling is tasty cold, too. 
No matter how you enjoy these lettuce wraps, they're simple to make, full of flavor and arguably even tastier than those from your favorite restaurant. 
If you don't have everything you need on hand, you can easily purchase all of the ingredients (just click the orange button below that says 'Get Ingredients'). You can pick and choose exactly what ingredients you need based on what's in your pantry and they'll be on your doorstep before you know it. 
Ingredients
1

head sturdy lettuce such as bibb, romaine or iceberg

1/2

cup chicken broth

1/4

cup soy sauce

2

tablespoons light or dark brown sugar

1

tablespoon cornstarch

2

tablespoons vegetable oil

2

pounds ground turkey or chicken
1

small bell pepper (green, red or any other color you prefer), finely diced

1

large carrot, finely diced

2

large garlic cloves, minced

1

tablespoon minced fresh ginger

1/4

cup finely sliced scallions, light green and dark green parts only (from about 2-3 scallions)
Sriracha or other hot sauce for serving
Preparation
Prep the lettuce: Separate the head of lettuce into individual leaves. Rinse and dry, either with a salad spinner or by hand, using clean kitchen towels or paper towels to pat the leaves dry.
Refrigerate the lettuce leaves until ready to assemble and serve, either inside the salad spinner or between layers of clean, dry kitchen towels or paper towels in an airtight container to wick away excess moisture. (Lettuce leaves can also be stored in individual serving sizes for lunches on the go.)
Cook the meat: Whisk the broth, soy sauce, sugar and cornstarch together in a small bowl and set aside.
Heat 1 tablespoon oil in a large skillet or sauté pan over medium-high heat until shimmering. 
Add half the ground meat in handfuls, distributing it in a single layer in the pan. Cook without stirring until the meat starts to brown, then stir and start breaking up the meat into smaller pieces. 
When the meat is no longer pink, transfer it to a bowl. Add the remaining oil and meat to the pan and cook in the same manner.
Finish the filling: Return all the meat to the pan and add the bell pepper, carrot, garlic and ginger. Cook for 5 minutes until the vegetables start to soften.
Whisk in the reserved broth and cook for a few more minutes to thicken the broth into a sauce. 
Remove from the heat and stir in the scallions.
Store the filling: Transfer to a lidded container (or multiple containers, if you're sending the wraps off to school or work for meals) and refrigerate until ready to eat. The cooked filling can be made up to 2 days in advance.
To serve: Reheat the meat in a covered skillet over medium-low heat until warmed through, or zap in the microwave in minute-long increments, stirring between each to warm evenly.
Spoon the warmed filling into the lettuce leaves (about 1/3-1/2 cup filling per leaf, depending on the size of your lettuce) and drizzle with Sriracha or your favorite hot sauce, if desired.
How to shop TODAY recipes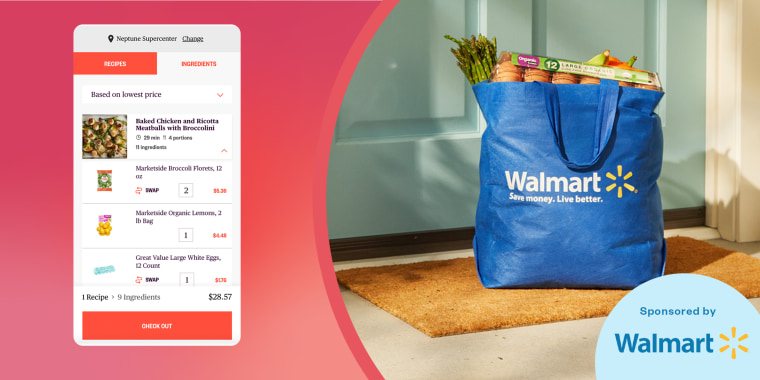 How to shop TODAY recipes
Here's everything you need to know about the cool new feature.
Learn More