Ingredients
Crispy Chicken Tenders
1/2

cup all-purpose flour

1/2

teaspoon salt

1/4

teaspoon black pepper

1

large egg
1/4

cup buttermilk

1

pound boneless, skinless chicken breasts

1/4

cup canola oil or vegetable oil, divided
Dressing
2

tablespoons fresh lemon juice (from 1 large lemon)

1

tablespoon unseasoned rice vinegar (or soy sauce, if rice vinegar isn't available in your supermarket; use a low-sodium version as the flavor will be saltier and less tangy with soy sauce)

2

tablespoons powdered sugar
1/4

cup canola oil or vegetable oil

a

splash of toasted sesame oil (optional)
Salad Components
1

head romaine lettuce, rinsed and torn into bite-size pieces

1

cup bagged coleslaw mix or 1 cup shredded cabbage
1/2

cup crispy chow mein noodles

1/4

cup sliced almonds
Chef notes
This crispy Asian chicken salad, inspired by Applebee's Oriental Chicken Salad, is a great dinner or make-ahead lunch. 
Preparation
ADVANCE PREP — Up to 3 days ahead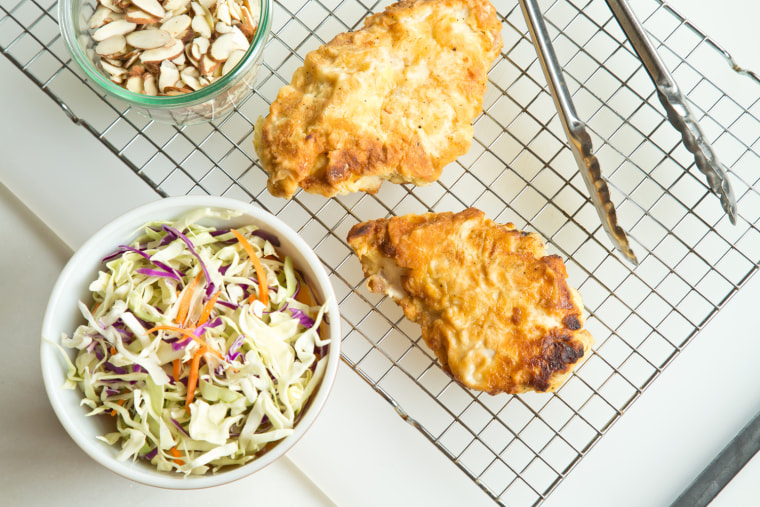 Make the chicken:
Preheat the oven to 375˚F. Place a wire cooling rack on a rimmed baking sheet.
Whisk the flour, salt and pepper together in a wide, shallow bowl. Whisk the egg and buttermilk together in a second shallow bowl.
Dredge the chicken breasts in the flour, then dip to fully coat in the egg mixture. Return the chicken to the flour for a final coat, patting the flour on generously.
Heat 2 tablespoons oil in a skillet over medium-high heat. Add the chicken breasts and cook until the coating is browned and crunchy, adding the remaining 2 tablespoons oil when you flip the chicken if needed.
Transfer the chicken breasts to the baking sheet and bake for 15-20 minutes, until completely cooked through (a meat thermometer inserted into the thickest part of the chicken will register 165˚F).
Cool to room temperature before slicing.
Make the dressing:
Whisk the lemon juice and soy sauce or vinegar together in a small bowl, then whisk in the sugar until dissolved.
Briskly whisk in the oil(s) until the dressing thickens.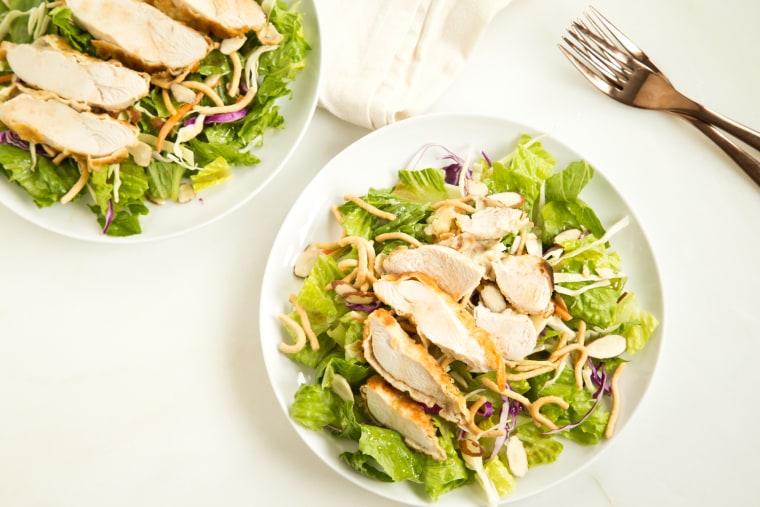 ASSEMBLE AND SERVE
For each serving of salad, toss a large handful of romaine with about 1/4 cup shredded coleslaw. Top with 2 tablespoons chow mein noodles and 1 tablespoon almonds, and 4-5 slices chicken (about half a chicken breast). Drizzle with dressing and serve.
 Want to get your salad ready the night before? Layer the chicken, then almonds, then slaw and romaine in a to-go container. Keep the chow mein noodles and dressing separate until ready to serve so they don't get soggy.