Ingredients
2

3-pound free-range chickens

4

carrots, peeled and cut into large chunks

2

stalks celery, cut into large chunks on an angle

1

onion, peeled and cut into 8 wedges

4

cloves garlic, peeled

1

bunch fresh thyme
Kosher salt
Freshly ground black pepper

1/2

cup (1 stick) butter, at room temperature

1

quart sodium-free chicken stock

1

4-ounce Parmesan rind (the rind works best here, but you can use a chunk of the cheese if necessary)

2

lemons, halved
Preparation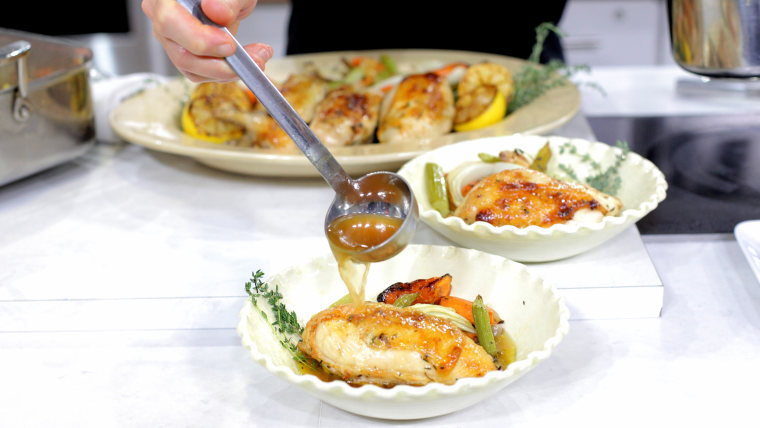 Preheat the oven to 450 degrees F.
Place one of the chicken breasts side up on a poultry-specific cutting board and remove the thighs and drumsticks, then separate the thighs from the drumsticks. Place the thighs and drumsticks on a small baking sheet and refrigerate. Cut the wings off at the first joint and discard.
Flip the chicken over, cut out the backbone with chicken shears or a sharp chef's knife, and discard it (or save it for stock or soup).
Flip the chicken over again and cut it down the middle between the breasts, breaking the breastbone and separating it into two pieces.
Repeat to cut up the second chicken.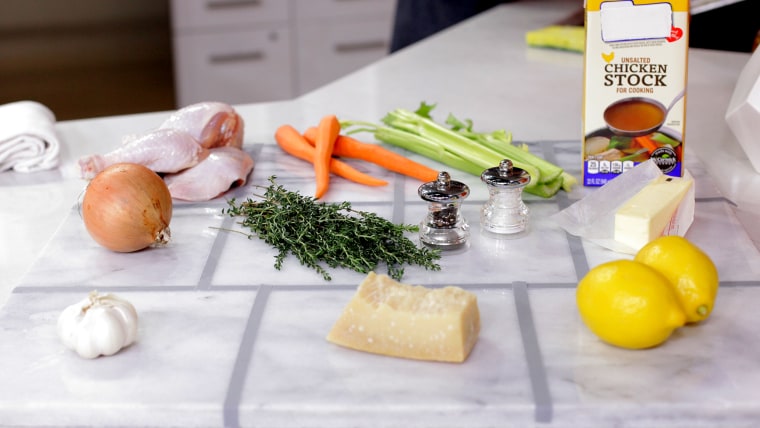 In a roasting pan that will fit all four chicken breasts, combine the carrots, celery, onion, garlic and thyme. Place the four breasts skin side up on top of the vegetables. Season the skin well with salt and pepper.
Use your fingers to create pockets between the skin and meat and distribute the butter evenly under the skin, pushing it into every nook and cranny.
Roast the chicken for 15 minutes. After 10 minutes of cooking, season the thighs and drumsticks liberally with salt and pepper. Place them in the same pan as the breasts and back into the oven for the remaining five minutes.
Turn the oven temperature down to 375 degrees F and cook the chicken for 20 minutes.
Meanwhile, make the Parmesan broth. In a small saucepan over medium heat, bring the chicken stock and cheese rind to a simmer. Season with one quarter teaspoon of the salt and keep warm over very low heat until the chicken is ready to be served.
Check the doneness of the chicken by inserting a knife at the wing bone; if the juices run clear, it's finished cooking. Alternatively, you can use a meat thermometer to check that the temperature is at least 160 degrees F. The vegetables should be softened but still toothsome.
Let the chicken rest for 10 minutes before serving.
While the chicken is resting, heat a skillet over medium heat and season the halved lemons with a touch of salt. Place the lemons cut side down in the hot skillet and char the lemon, undisturbed, until caramelized, about 3 minutes.
Serve the chicken with the roast vegetables and charred lemons. Pour some parmesan broth over each serving.
Recipe reprinted with permission from The Chef Next Door by Amanda Freitag.