Ingredients
Tomato Sauce
2

28-ounce cans diced tomatoes (or 2 jars, low sodium, low sugar tomato sauce)

4

cloves garlic, finely chopped (or 2 tablespoons bottled minced garlic)

1

tablespoon dried oregano, plus more for sprinkling
2

teaspoons dried thyme

3/4

teaspoons sea salt

3/4

teaspoons, plus 1/2 teaspoon freshly ground black pepper
Cheese Blend
1

cup part-skim ricotta cheese

1/3

cup Parmesan cheese, grated
1/8

cup parsley, chopped (or a handful) or 1 tablespoon dried parsley
10

sheets uncooked lasagna noodles (for about four layers)

1

10 ounce bag baby spinach

1½

cup sliced mushrooms (about 12 to 15 button mushrooms)
1

14.5 ounce can low sodium Great White Northern Beans, rinsed and mashed slightly (or 2 cups cooked white beans)

3/4

cup part-skim mozzarella cheese, shredded
Chef notes
While this lasagna is delicious fresh out of the slow cooker, many think it's even better the next day!
You can swap in other vegetables like sliced bell peppers, zucchini and summer squash or change up the greens to Swiss chard. You can alternate beans to kidney beans or black beans. You can also include lean ground beef or turkey by browning ground meat in a pan before adding it to the tomato mixture before layering.
For leftovers, allow the lasagna cool in the slow cooker (no more than about 90 minutes for food safety), then remove in portions and refrigerate for up to 5 days. Reheat in the oven or microwave.
Serve with a simple green salad.
Nutrition info: 1 serving. Calories: 287. Fat: 7 g. Cholesterol: 31 mg. Sodium: 440 mg. Carbohydrate: 40 g. Fiber: 7 g. Protein: 16 g
Preparation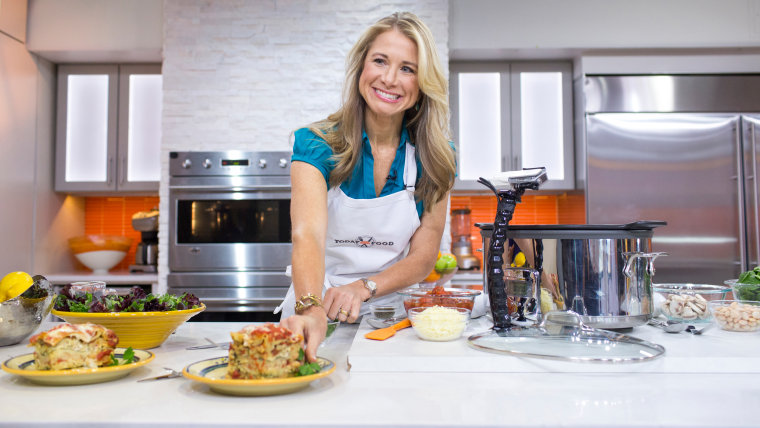 Lightly rub the inside of the slow cooker with butter to help with sticking and cleanup.
Make the Tomato Sauce: In a bowl, combine the tomatoes, garlic, oregano, thyme, salt and pepper.
Make the Cheese Blend: In another bowl, combine the ricotta, Parmesan, parsley and a 1/2 teaspoon black pepper.
Build the Lasagna:
Spoon a modest layer of tomato sauce (about 8 ounces) into the bottom of the slow cooker.
Add a layer of lasagna noodles, breaking into pieces to fit the shape of the slow cooker and cover a single layer.
Add two large handfuls of spinach (about 3 cups) and press down.
Spoon about half of the Cheese Blend and press and spread with a spatula or wooden spoon. You can also use a pastry bag or plastic ziptop bag with the tip cut off to spread across the spinach.
Add another layer of lasagna noodles, breaking pieces to fit and create a single layer.
Add about 1 cup (8-12 ounces) of the tomato sauce.
Add the beans as a layer, then repeat the spinach, followed by the Cheese Blend.
Add a layer of noodles and then about 1 cup (8-12 ounces) of the tomato sauce.
Add sliced mushrooms as a layer, then a final layer of noodles and the remaining sauce.
Top with the shredded mozzarella and sprinkle with dried oregano.
Cook on the High setting for 2½ hours or on the Low setting for 4 hours.
Remove lid, let sit for 15-20 minutes and serve.