Ingredients
1

16-ounce jar salsa (pick your favorite—red, green, black bean and corn, whatever you like best)

4

eggs
3

cups baked tortilla chips, whole grain tortilla chips, black bean tortilla chips, or your favorite brand

1/2

cup finely shredded Mexican cheese blend
Optional toppings
2-3

scallions, thinly sliced

1

avocado, diced
1/2

cup sour cream or plain Greek yogurt (any fat percentage)

1

lime, cut into 4 wedges
Chef notes
They may not be the prettiest dish at the table, but chilaquiles are Mexican comfort food beyond compare. For breakfast, lunch, or dinner, this one-pot meal of tortillas simmered in salsa makes everyone happy—especially since you can use whatever your favorite salsa happens to be to make this meal your own.
Though they're typically made with pan-fried corn tortillas, a quick substitute of healthier chips (like the black bean and flaxseed chips shown in these photos) makes this version a lighter option than the traditional recipe. For a heartier dinner dish, substitute 2 cups leftover chopped rotisserie chicken for the eggs or add the chicken to the skillet after cooking the eggs to make it an even more filling meal.
Preparation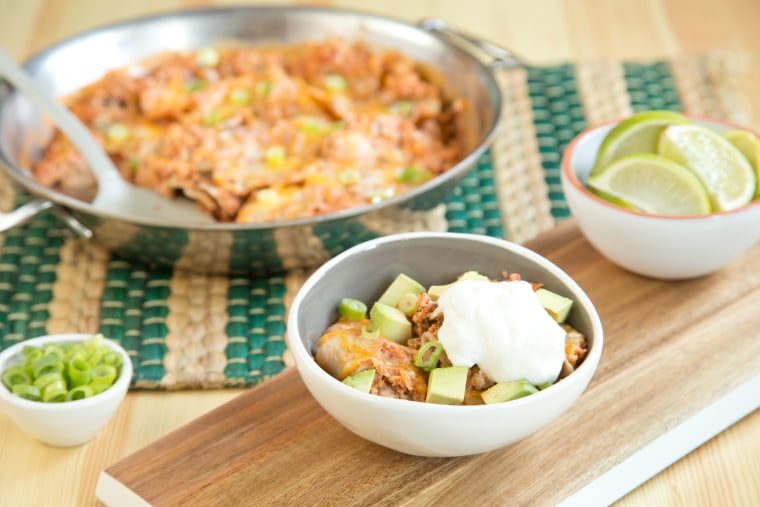 Preheat the broiler.
Pour the salsa into a large (10-12 inch) deep-sided skillet and bring to a simmer over medium heat.
Whisk the eggs together in a bowl and pour into the salsa, stirring frequently until cooked through and scrambled with the salsa.
Add the chips in handfuls and stir to coat with the salsa and eggs. The chips will begin to soften in the sauce as you stir.
Remove from the heat and sprinkle the cheese over the chilaquiles. Broil until the cheese is melted and the chilaquiles are browned and crispy in bits—timing will vary based on your broiler, but should take no longer than 5 minutes.
Divide between 4 bowls and garnish with scallions, avocado, and/or sour cream as desired. Serve with lime wedges on the side if desired.