Ingredients
Kosher salt

6

ounces bacon, chopped
Extra-virgin olive oil, as needed

1

medium onion, chopped (about 1 cup)

1

pound spaghetti
2

large egg yolks

1

bunch scallions, trimmed and chopped (about 1 cup)

1

teaspoon freshly ground black pepper

1

cup freshly grated Grana Padano
Chef notes
Perhaps a perfect dish, this pasta is simply made with spaghetti, bacon, eggs and grated cheese. Since there are so few ingredients, be sure to choose the best possible version of each for the most delicious result.
Note: There is always concern about uncooked eggs, or, in this case, egg yolks. You can omit the egg yolk altogether and the dish will be a little less complex, or you can buy pasteurized egg yolks. One egg yolk is approximately one and a half liquid ounces if you want to substitute pasteurized egg yolks.
Preparation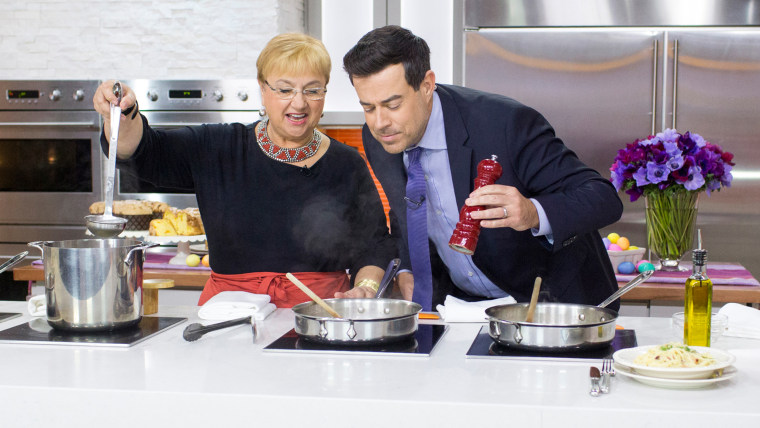 Bring a large pot of salted water to a boil for the pasta.
Cook the bacon in a large skillet over medium heat until the fat has mostly rendered, about 4 to 5 minutes. (If your bacon is very lean, you can add a drizzle of olive oil to help start the rendering of the fat.) Push the bacon to one side of the pan, and add the onion. Let both cook separately until the onion is tender, about 5 minutes, then mix the two together. (If you like, you can drain off the excess bacon fat here and replace it with olive oil.) Ladle 4 cups pasta water into the skillet with the bacon and onion, bring to a rapid boil, and quickly reduce the sauce.
While the sauce is reducing, add the spaghetti to the boiling water. Meanwhile, whisk the egg yolks with 1/2 cup hot pasta water in a small bowl. When the sauce has reduced by about half and the spaghetti is al dente, scoop the pasta into the sauce with tongs. Add the scallions, pepper and salt to taste. Toss the pasta until it is coated in the sauce and the scallions are wilted. Remove the pan from the heat, and quickly mix in the egg yolks, stirring until creamy. Toss the pasta with the grated cheese, and serve immediately.