Ingredients
1

cup all-purpose flour

1

teaspoon baking powder

2

tablespoons granulated sugar

1/4

teaspoon kosher salt

1/2

cup fresh ricotta cheese

1/2

cup whole milk
1

lemon, zested and juiced

2

tablespoons unsalted butter, melted

1

large egg, separated

1

8-ounce container whipped cream cheese

1

14-ounce jar fruit jam
Chef notes
We love serving lemon ricotta pancakes for breakfast because of their light, fluffy texture. The lemon juice helps offset the usual sweetness that you get from a large stack of pancakes drizzled with the works — aka maple syrup, plus maybe a strawberry compote and freshly made whipped cream for good measure. Meanwhile the ricotta helps to create an airy, cloudlike texture so you can say goodbye to dense, flat pancakes. 
The same can be said for these blini. What they lack in size, they more than make up for with a lovely, luscious bite. Blini, which are a Russian pancake, are traditionally savory and served with elegant toppings such as crème fraîche, smoked salmon, and caviar. But there's no reason that they can't be made sweeter and served as a bite-sized dessert rather than passed hors d'oeuvres. We embraced that concept completely and topped these zesty blini with whipped cream cheese and fruit jam. Use your favorite type of jam–we're partial to strawberry or raspberry for something on the sweeter side, or a dark fig jam for something a little less cloying. They're an adorable, crowd-friendly treat for holiday parties and year-round gatherings alike.
Technique Tip:  Want to make a big batch of blini in advance? Line a large baking sheet with a cooling rack and spread the blini across the rack. Place the sheet in a 250 F oven to keep warm; the rack will prevent them from steaming so they stay evenly crisp on both sides. Top them with the cream cheese and jam just before serving so that they don't get soggy.
Swap Option: If you can't find whipped cream cheese, substitute mascarpone cheese instead. It's similarly not-too-sweet and has a spreadable texture that makes it easy to smear atop the blini. 
Preparation
1.
In a large bowl, whisk together flour, baking powder, sugar and salt. Set aside.
2.
In a separate bowl, whisk together ricotta cheese, milk, lemon zest, lemon juice, butter and egg yolk.
3.
In a third bowl, beat the egg white with an electric hand mixer on medium speed until soft peaks form.
4.
Add the ricotta cheese mixture into the dry ingredients and stir until just incorporated. Gently fold the whipped egg whites into the batter, stirring until just incorporated.
5.
Heat a griddle or large cast-iron or nonstick skillet over medium heat. Drop tablespoonfuls of batter onto the griddle and cook until each blini is no longer shiny with bubbles starting to form. Flip and cook until golden brown.
6.
Transfer the blini to a wire rack and cool to room temperature. Refrigerate overnight in a sealed container, or freeze on a baking sheet and thaw in the refrigerator for up to 24 hours before serving.

To serve:
Bring the blini to room temperature. Spread with cream cheese and top with spoonfuls of jam to serve.
How to shop TODAY recipes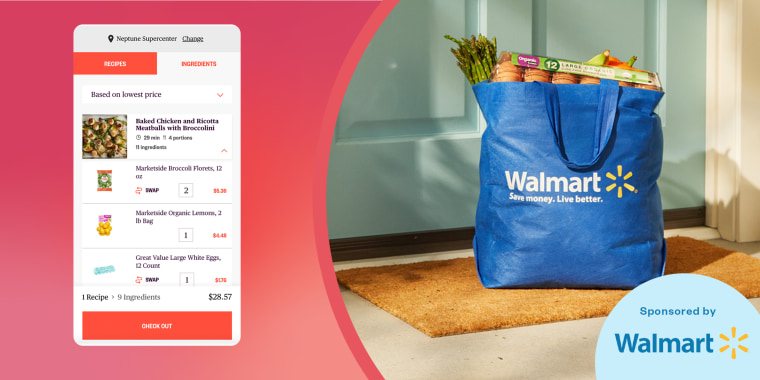 Here's everything you need to know about the cool new feature.