Ingredients
1

whole cooked chicken, meat removed and shredded (about 5 cups)

1/2

cup fresh lime juice

1/4

cup olive oil

1 1/4

cups chopped cilantro, divided, plus extra cilantro sprigs, for serving

2

teaspoons salt, divided

2

large tomatoes, cored and diced

1/2

medium red onion, diced
1/2

jalapeño, minced

8

corn tortillas

1 1/2

cups refried beans

2 1/2

cups shredded Cheddar cheese
Sour cream, for serving
Lime wedges, for serving
Chef notes
Fun to assemble and even more fun to eat, these colorful open-face tacos are bursting with bright flavors and spice. I like to leave the jalapeño seeds and ribs intact to add more of a kick, but if you don't like heat, feel free to remove them before adding to the tomato salsa. You can easily change up this recipe by swapping in whatever leftover protein you have on hand—sliced steak or pork, or even roast veggies.  
RELATED: Make one-pot lemon-thyme roast chicken with vegetables
Preparation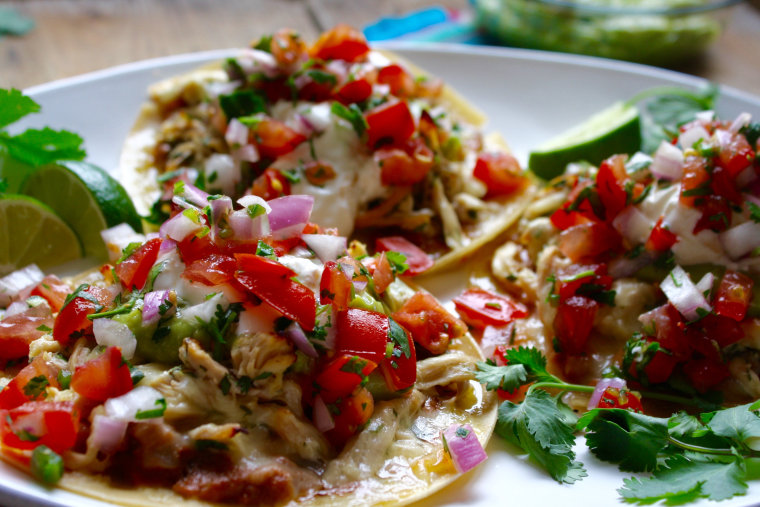 Preheat the oven to 450 degrees F. Line two baking sheets with aluminum foil.
In a large bowl, combine the shredded chicken with the lime juice, olive oil, 1 cup chopped cilantro, and 1 teaspoon salt. Set aside.
In a small bowl, combine the tomatoes, onion, jalapeño, remaining 1/4 cup cilantro, and 1 teaspoon salt. Set aside.
Lay the 8 tortillas on the baking sheets. Spread 1/8 of the refried beans on a tortilla, spreading evenly. Top with 1/8 of the chicken mixture and 1/8 of the Cheddar. Repeat with the remaining tortillas. Bake for about 6 minutes, or until the cheese is melted and bubbly and starts to brown.
Top each chicken taco with the tomato mixture, dividing evenly. Serve with guacamole, sour cream, lime wedges, and cilantro sprigs.