Chef notes
Gimpab, also known as kimbap, is one of Korea's most popular snacks. The sushi-style rolls are endlessly versatile and are great for eating on the go, bringing to a picnic or even as a fast and fun dinner. 
To make these rolls, pre-cooked short-grain rice is spread out sheets of dried seaweed. Egg omelet, a strip each of yellow radish and cucumber, carrot matchsticks and blanched spinach are placed in the center of the rice. You then use both hands to carefully roll the bottom of the seaweed sheet over the filling until you've formed a tight roll. After slicing the roll into 1/2-inch pieces, it's ready to be enjoyed!
Given how hands-on this recipe is, it's definitely one that's great for kids. They'll love assisting with the filling and rolling of the gimpab before digging in. Don't hesitate to look beyond the fillings listed here as the rolls can be made with just about anything. Try diced avocado, cooked shrimp or chicken, canned tuna, ham, pickled radish, kimchi or a combination. You can also use short-grain brown rice instead of white rice, if you prefer, for a more filling, fiber-rich snack.  All this to say: Have fun using your imagination. 
While these rolls are great to carry to a picnic or for an on-the-go meal, they don't keep well, so they're not the best contender for meal prepping. Make them no more than a few hours or so ahead and store them in an airtight container in the refrigerator. Let them come back to room temperature before eating or serve slightly chilled.
Ingredients
4

cups cooked short-grain white rice

1½

teaspoons kosher salt

2

tablespoons toasted sesame oil, divided

1/2

pound thinly sliced rib-eye

2

teaspoons soy sauce

1

tablespoon sugar
4

sheets dried seaweed (gim)

2

eggs, cooked into an omelet and cut into long strips

4

pieces yellow radish, cut thinly into 8-inch long strips

1

cucumber, ends trimmed and cut into long strips

1

carrot, cut into matchsticks

1

cup blanched spinach
Preparation
1.
In a large bowl, season the rice (while it's still warm, to better absorb flavor) with the kosher salt and 1 tablespoon of toasted sesame oil.
2.
In another bowl, combine the 1/2-pound of sliced rib-eye, the remaining 1 tablespoon toasted sesame oil, soy sauce and sugar. Mix well.
3.
In a sauté pan, cook meat over medium-high heat until thoroughly cooked. Set aside to cool.
4.
Place a sheet of the dried seaweed (gim) on a bamboo mat with the shiny side down.
5.
Gradually and carefully spread about 1 cup of the rice over top of it, covering about 2/3 of the sheet, leaving about 2 inches to the top of the sheet.
6.
Place one strip of your egg omelet, sliced rib-eye, yellow radish, cucumber, a small line of the shredded carrots and equal amount of spinach in the center of the rice. Use both hands to carefully roll the bottom of the seaweed sheet over the fillings, and gently continue rolling until the seaweed is completely rolled up.
7.
Take the mat and cover the roll and squeeze firmly, but not too tight (this will help secure the roll without tearing the seaweed). If you find that a small flap of the seaweed isn't fully secured after rolling, gently wet your fingertip with a little water and moisten the edge of the flap and complete the rolling. Repeat with the remaining ingredients.
8.
Using a knife, carefully slice the rolls into 1/2-inch pieces. Serve immediately or pack it in an airtight container.
How to shop TODAY recipes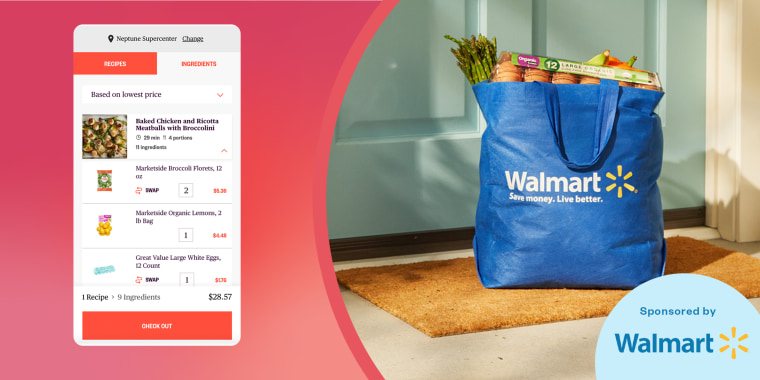 How to shop TODAY recipes
Here's everything you need to know about the cool new feature.
Learn More