Ingredients
Balsamic Spread
1/2

cup mayo

3

tablespoons balsamic vinegar

1

clove garlic, grated
1/4

cup chopped parsley

1/4

cup grated Parmesan cheese
salt and freshly ground black pepper, to taste
Chicken Cutlets
olive oil, for frying

1

cup flour

3

eggs, beaten
1

cup Italian seasoned breadcrumbs
salt and freshly ground black pepper

4

chicken cutlets
Sandwich
balsamic spread (recipe above)
Portuguese rolls or soft hero roll

2

chicken cutlets (recipe above)

8

slices fresh mozzarella
1/2

cup roasted red peppers, jarred

1

cup baby arugula
salt and pepper, to taste
Chef notes
This recipe is my childhood all wrapped up in a bun. I grew up going to my local Italian deli every Sunday with my dad. Walking in you were consumed by the smell of bread, mountains of freshly made mozzarella and an overwhelming deli case full of Italian specialties. There was no doubt this was the sandwich I was getting. The layers of crispy chicken cutlets with fresh mozz and roasted red peppers would call my name. The secret to making this sandwich stand out? The balsamic spread! It adds another level of flavor. The Jersey girl in me will debate 'til the end of time that this sandwich is the greatest ever made. Fuhgeddaboudit!
Technique tip: Bread chicken cutlets up to 1 day in advance to help the coating adhere to the chicken.
Swap option: Use sautéed broccoli rabe instead of arugula.
Preparation
For the balsamic spread:
Combine all ingredients in a small bowl. Mix well until combine. Keep in fridge until ready to use.
For the chicken cutlets:
1.
Preheat a medium skillet over medium-high heat. Add enough olive oil to coat the bottom.
2.
Meanwhile, set up a breading station with flour, beaten eggs and bread crumbs. Season flour with salt and pepper.
3.
Dredge cutlets in flour then eggs and finally breadcrumbs, pressing firmly to ensure they adhere evenly. Place on a rimmed baking sheet while you repeat the process with the remaining cutlets.
4.
Once oil is hot, add chicken in batches. Cook about 4-5 minutes per side, until golden brown. Remove from skillet and let cool on a paper towel lined plate.
For the sandwich:
1.
Start by spreading balsamic spread on both sides of the roll.
2.
Add 2 chicken cutlets, slightly overlapping them to fit.
3.
Top with half of the sliced mozzarella, 1/4 cup of roasted red peppers and 1/2 cup of baby arugula. Add salt and pepper to taste. Top with top bun and firmly press sandwich to close.
How to shop TODAY recipes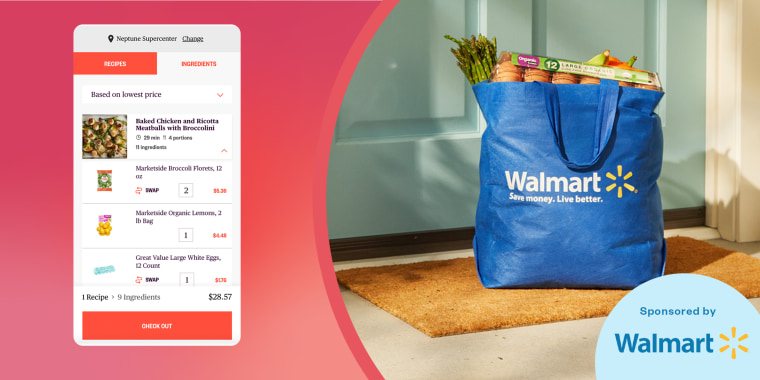 Here's everything you need to know about the cool new feature.