Ingredients
Pulled chicken filling
1½

pounds boneless, skinless chicken breasts

½

cup salsa, homemade or store-bought

1

teaspoon garlic powder
½

onion, finely chopped

2

teaspoons taco seasoning
Enchiladas
2

cups enchilada or taco sauce, homemade or store-bought

2

cups shredded reduced-fat Mexican-blend cheese
16

small tortillas (corn or flour)
Chef notes
In the mood for Mexican? Give my light and lean (and lazy, thanks to the slow cooker) chicken enchiladas a try. This recipe seriously couldn't be any easier to make: Simply toss chicken, salsa, garlic powder, onion, and taco seasoning into a slow cooker before heading out in the morning. When you get home, stuff tortillas with the flavorful pulled chicken filling, pour on the enchilada sauce, melt the cheese, and dig in! Not only is dinner on the table in less than 20 minutes, but you'll save yourself almost 300 calories compared to the traditional version. You may just have to have a glass of sangria to celebrate!  
For more delicious recipes like this one, check out Joy's new cookbook, From Junk Food to Joy Food. 
Preparation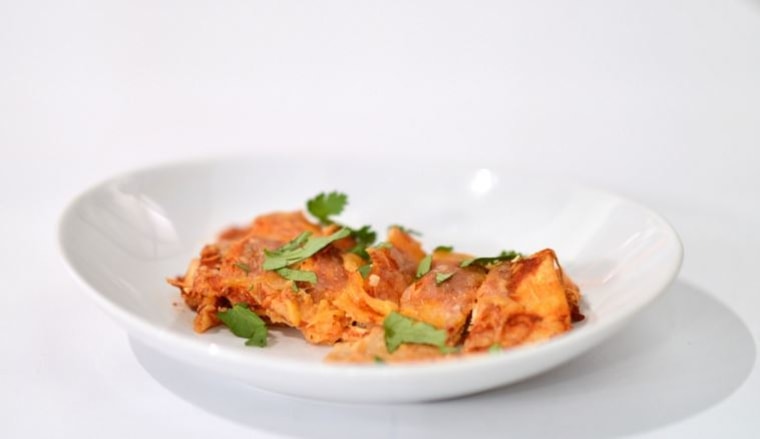 To make the pulled-chicken filling, add all the ingredients to a slow cooker and set on high for 4 hours or low for 8 hours. When the chicken is done (you'll notice a large amount of liquid in the slow cooker; this is normal), shred it with a fork until all of the liquid within the slow cooker is incorporated.
To make the enchiladas, preheat the oven to 350°F. Coat the bottom of two 9 x 13–inch baking pans with a thin layer of the enchilada sauce.
Microwave the tortillas for about 30 seconds to make them warm and flexible. Place one tortilla at a time on the prepared pan, spreading 1 heaping tablespoon of enchilada sauce evenly over the top of each, adding ¼ cup pulled chicken, and rolling it up. Place the fold sides of the enchiladas underneath, to keep the enchiladas from unraveling. Repeat this process with the remaining tortillas and filling.
Once all the enchiladas are set, spread the remaining enchilada sauce over the top, and sprinkle on the cheese. Place in the oven for about 15 minutes, until the cheese is hot and bubbly.
Note: To heighten the flavor, add a dash of cumin, cayenne pepper, red pepper flakes, or any other preferred seasonings on top of the cheese. Serve the enchiladas with chopped tomatoes, cilantro, scallions, salsa, light sour cream, or nonfat plain Greek yogurt.
Want Joy to slim down your favorite fattening dish? Challenge her via Twitter, Facebook and Instagram.