Ingredients
Jalapeño Roast Chicken
1

pound butternut squash, peeled, seeded, and sliced into 1-inch pieces

6

tablespoons coconut oil, divided
Salt
Freshly ground black pepper

1/2

cup thinly sliced fresh jalapeños
1

5-pound whole chicken, giblets removed

3

cloves garlic, peeled

1/4

cup fresh oregano

1/4

cup flat leaf parsley

1

lime, sliced into rounds
Healthy Refried Beans
2

cups black beans, soaked overnight

1

yellow onion, cut in half (one half for cooking liquid and other half chopped)

3

cloves garlic, unpeeled
Salt, to taste

2

tablespoons olive oil, divided

1

jalapeño, stemmed, seeded, deveined, finely chopped
Garnishes for Serving
Corn tortillas
Salsa (homemade or store-bought)
avocado, sliced
radishes, sliced
onion, chopped
cilantro, minced
Pickled jalapeños
Lime wedges
Chef notes
TV host Marcela Valladolid lightens up classic roast chicken by coating it with coconut oil instead of butter. For extra flavor, she stuffs jalapeños under the chicken's skin and fresh herbs in the cavity. Pile the shredded chicken into warm corn tortillas, then top with traditional garnishes like salsa, onion, cilantro, avocado, radishes, pickled jalapeños and a squeeze of lime. The finishing touch: a side of her healthy lard-free refried beans made with olive oil and the beans' cooking liquid.
Preparation
For the Jalapeño Roast Chicken: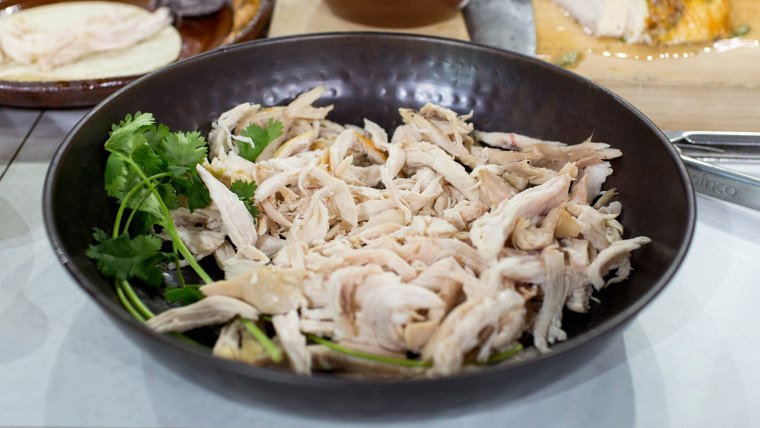 Place racks in upper and lower thirds of oven; preheat to 475°F. Arrange squash in a heavy cast iron skillet just large enough to fit them all in a single crowded layer and dot 2 tablespoons coconut oil. Season with salt and freshly ground black pepper and toss to coat. Set aside.
Carefully place jalapeños under skin of chicken. Stuff chicken cavity with garlic, oregano, parsley, lime and remaining coconut oil. Season heavily with salt and freshly ground black pepper. Place stuffed chicken, breast side up, directly on top of squash.
Roast chicken and squash, rotating pan halfway through cooking process, until a thermometer inserted into the thickest part of chicken thigh registers 165°F, about 1 hour and 20 minutes.
Let rest 10 minutes before carving or shredding. Shred for tacos, discarding bones and skin.
For the Healthy Refried Beans:
Place beans, 1/2 onion, garlic and 8 cups water in a large heavy pot. Bring mixture to a boil, reduce heat, cover and simmer for 3½ hours or until beans are soft. Make sure to add more water as needed.
Season beans to taste with salt and drizzle with 1 tablespoon olive oil, stirring well to combine.
Chop other half onion.
Preheat remaining olive oil in a large heavy skillet over medium heat. Add chopped onion and jalapeño, and saute until onions are translucent, about 5 minutes. Gradually add the cooked beans and cooking water as necessary and use a bean or potato masher to gently mash them, lowering the heat if necessary to prevent scorching. Using a spatula or a flat wooden spoon, continue stirring and scraping the sides of the skillet until the beans dry out slightly and have cooked down to a paste. The beans should be moist and shiny. Serve.
To assemble:
Serve the shredded Jalapeño Roast Chicken with warm tortillas, salsa, sliced avocado, sliced radishes, chopped onion, minced cilantro, pickled jalapeños, lime wedges and Healthy Refried Beans.