Chef notes
I love this recipe because it's super comforting and pretty simple to make. I put my own twist on the classic soup: Instead of simmering the meatballs in the broth, I brown them in a skillet first to build more flavor. It may not be traditional, but it's how I roll. You can skip this step, but you'll be cutting yourself short on extra flavor, so I suggest taking the time to do this!
Get Ingredients: If you don't have everything you need on hand, you can easily purchase all of the ingredients (just click the orange button below that says 'Get Ingredients'). You can pick and choose exactly what ingredients you need based on what's in your pantry and they'll be on your doorstep before you know it.
Technique Tip: Shape the meatballs in advance and chill in the fridge until ready to use. Searing the meatballs in a skillet before adding them to the soup adds additional flavor.
Storage Tip: I would freeze it in plastic quart containers because that's typically what I have on hand. Also, be sure that the soup has cooled down to room temperature; you can do this by putting the soup in an ice bath to bring the temperature down quickly. If you don't have quart containers, you can also freeze the soup in large zip-top bags and lay them flat on a tray in the freezer; they will take up less space that way.
Swap Option: Use ground turkey or chicken instead of beef.
Ingredients
Meatballs
1½

pounds ground beef (80% lean/20% fat or 90% lean/10% fat blend)

1

large egg

1/2

cup Italian seasoned breadcrumbs

1/4

cup roughly chopped parsley leaves

3

tablespoons grated pecorino cheese
3

tablespoons grated Parmesan cheese

2

cloves garlic, minced

1

teaspoon kosher salt

1/2

teaspoon fresh ground black pepper
Olive oil, for sautéing
Soup
2

tablespoons extra-virgin olive oil

2

carrots, peeled and roughly chopped

3

stalks celery, roughly chopped

1

medium onion, roughly chopped

2

bay leaves
Kosher salt and freshly ground black pepper, to taste

3

cloves garlic, roughly chopped

1

pinch ground nutmeg
2

quarts chicken stock

1½

cups water

1

Parmesan rind

1

cup small noodles, such as ditalini

1

(5-ounce) container baby spinach
Grated Parmesan, for serving
Squeeze of lemon, for serving
Preparation
For the meatballs:
1.
In a medium bowl, combine ground beef, egg, breadcrumbs, parsley, both cheeses, garlic, salt and pepper. Using your hands, gently combine all ingredients until well combined, being sure not to over-mix.
2.
Using a cooking scoop or your hands, portion meat into 1½ tablespoon-sized balls and place on a baking sheet.
3.
In a medium skillet over medium-high heat, add olive oil to coat the bottom of the pan. Add in 1/4 of the meatballs and brown on both sides, about 2-3 minutes per side. They will not be cooked through at this point, just browned. Remove meatballs from the skillet and place baking on baking sheet. Repeat process with remaining meatballs.
4.
Set skillet aside; do not rinse. The bits on the bottom of the skillet will be deglazed later and added to the soup.
For the soup:
1.
Heat 2 tablespoons olive oil in a large Dutch oven over medium heat. Add carrots, celery, onions and bay leaf to the pot. Cook until softened but not browned, 6 to 8 minutes. Season with salt and pepper.
2.
Add garlic and a pinch of nutmeg to the softened vegetables. Cook until garlic is fragrant, about 1-2 minutes.
3.
Add in chicken stock, water and Parmesan rind. Bring to a boil then reduce to simmer.
4.
Using about one ladleful of the simmering broth, add to warm skillet where the meatballs have been previously cooked. Use the hot broth to scrape up the browned bits in the skillet. Add this liquid from the skillet to the pot of simmering soup.
5.
Add seared meatballs into the pot. Simmer soup till flavors have had a chance to meld and vegetables are tender, about 20 minutes.
6.
Add in pasta and baby spinach. Cook additional 10 minutes, until noodles are tender and spinach is wilted. Taste for seasoning, add additional salt and pepper to taste. Remove bay leaves and Parmesan rind. Serve with extra grated cheese and a squeeze of lemon, if desired.
How to shop TODAY recipes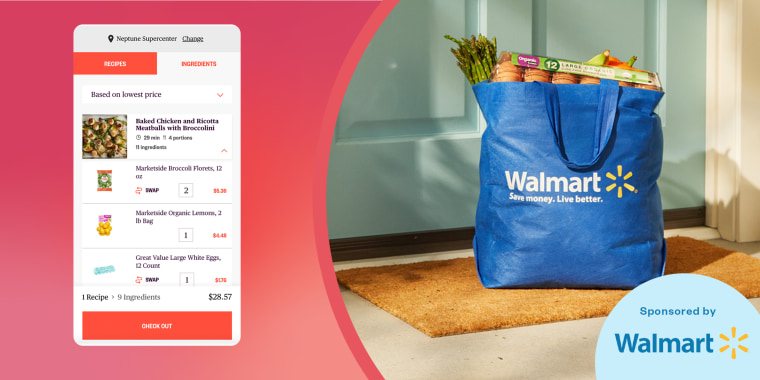 How to shop TODAY recipes
Here's everything you need to know about the cool new feature.
Learn More