Chef notes
During summer, I like to create dishes that will taste great at any temperature and can be fit for lunch or dinner. Whether I am enjoying them in the backyard, on the beach, or on a boat, my goal is to make foods that are stress-free to execute, while still bursting with flavor. Plus, I really try to celebrate the bounty of the season by highlighting summer produce at its peak freshness. Plus, this means that, oftentimes, it is more affordable because it is more readily available. 
Some of my earliest memories growing up were enjoying barbecued chicken, ribs, baked beans and potato salad with my family on the lake in Wisconsin. After working in an Italian restaurant, this recipe is my homage to my favorite summertime side with an Italian influence. Enter: Italian Potato Salad. We've all had an Italian pasta salad, but how about an Italian potato salad? This recipe is the love child of your favorite Italian chopped salad and your favorite vinegar-based potato salad. Creamer potatoes are steamed and tossed in a punchy Italian vinaigrette alongside radicchio, salami, capers, olives, Parmesan, pickled pepperoncini peppers and cherry tomatoes. Potato salad and pasta salad are classic staples that can be served at any time of day with just about any protein. Plus, like a fine wine, it just gets better with age. So, make it up to a day in advance and store in the fridge before serving.
Technique Tip: If you are sensitive to the taste of red onion, place the onions into a small bowl of ice water for 5 to 10 minutes before serving to remove the astringency from the onions. Pat dry with paper towels before adding to the salad. If you don't want to slice the Parmesan by hand, feel free to use a vegetable peeler or mandolin. 
Swap Option: Feel free to swap the oregano for Italian seasoning and swap the Parmesan cheese for aged provolone. Grainy mustard can be used instead of Dijon mustard and banana peppers can be used instead of pepperoncini. 
Ingredients
8

medium Yukon gold potatoes (about 2 pounds), peeled
kosher salt, to taste

1

small head radicchio, halved, cored and thinly sliced

2

ounces salami, thinly sliced, cut into half moons

1

(3-ounce) jar capers, drained

1

(10-ounce) jar pitted Castelvetrano olives, quartered

3

ounces Parmigiano Reggiano cheese, thinly sliced

6

ounces sliced pickled pepperoncini, drained

1

(12- ounce) container cherry tomatoes, halved
1

small red onion, halved, peeled and thinly sliced

1/4

cup red wine vinegar

1½

teaspoons dried oregano

2

small cloves garlic, grated

1

teaspoon Dijon mustard

1/2

teaspoon honey (optional)

1/2

cup extra-virgin olive oil
freshly ground black pepper, to taste

1

cup loosely packed fresh herbs (such as basil, parsley and chives), finely chopped
Preparation
1.
Add potatoes to a large pot and fill with cold water. Add 2 tablespoons of kosher salt and bring to a boil over high heat. Once boiling, reduce the heat to a simmer and cook until the potatoes are tender when pierced with a knife, about 20 minutes. Drain, remove from the heat and thinly slice into 1/4-thick coins.
2.
Add the potatoes to a large bowl along with the radicchio, salami, capers, olives, Parmesan, pepperoncini, tomatoes and red onion.
3.
In a small bowl or Mason jar, combine the red wine vinegar, oregano, garlic, Dijon, honey (if using) and olive oil. Season with salt and pepper and whisk or shake to combine.
4.
Drizzle the dressing over the potato salad and delicately toss to coat. Add the chopped herbs and toss again. Adjust seasoning to taste. Serve on a platter at room temperature or chilled. I recommend making it at least 1 hour in advance of serving so the dressing can properly permeate the potatoes
How to shop TODAY recipes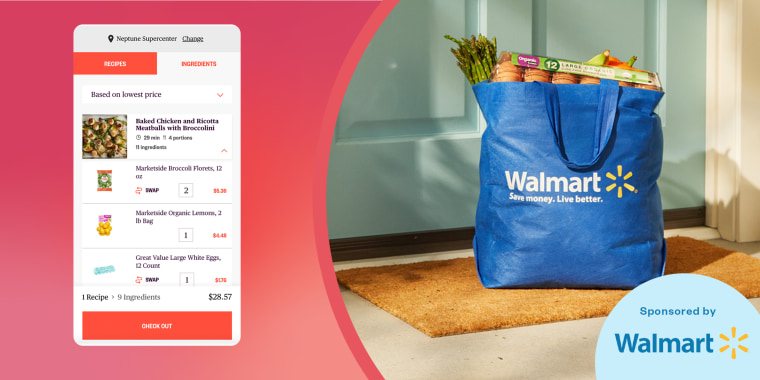 How to shop TODAY recipes
Here's everything you need to know about the cool new feature.
Learn More