Ingredients
3

garlic cloves, minced

1/4

cup extra virgin olive oil

3/4

pound boneless, skinless chicken breasts, cut into strips

2

cups of broccoli florets

"0.5-0.75" is not a number.

cup oil-packed julienned sun dried tomatoes, drained

2

tablespoons chopped, fresh basil
Pinch of red pepper flakes

1/4

cup dry white wine

3/4

cup chicken broth

1-2

tablespoon butter

1/2

pound bow tie pasta, cooked
Chef notes
In the new edition of Kathie Lee Gifford's  "Good Gifts" book, Joy Philbin shares a simple pasta dish that's a favorite of husband Regis.
Preparation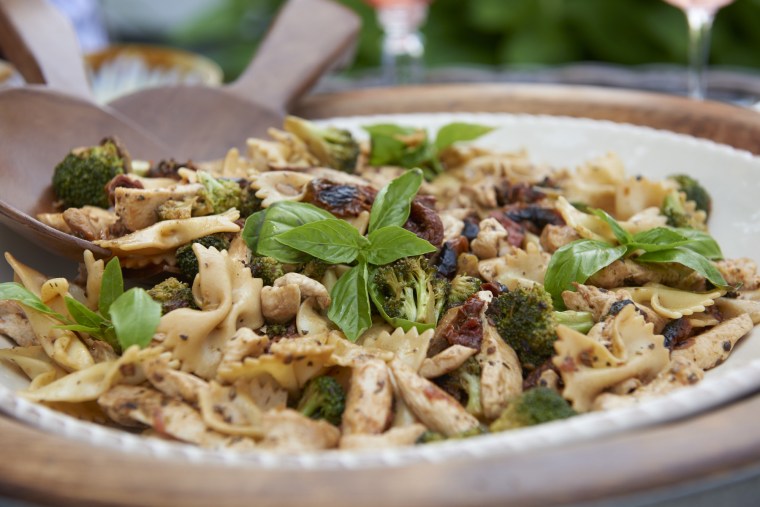 In a large skillet, sauté the garlic in oil quickly, being careful not to burn.
Add the strips of chicken and sauté until cooked through, about 10 minutes.
Remove chicken and cover with tin foil to keep warm.
Add the broccoli florets and a little more oil to the pan, if necessary. Stir and toss broccoli until crisply tender.
Return chicken to the pan and add the tomatoes, basil, red pepper flakes, wine and chicken stock. Season to taste with salt & pepper. Add the butter, cover and simmer over low heat, for 5 to 10 minutes. Remove from heat.
Add the cooked bow tie pasta to the pan. Add a little more white wine or chicken broth if the pasta isn't saucy enough.
Stir to blend and serve with grated Parmesan on the side with crusty Italian bread.
Swap: You can also turn this into a seafood pasta by subbing in 1 pound of cleaned shrimp in place of the chicken.