Chef notes
This recipe is a fun change of pace to traditional pasta recipes. It is the perfect combination of herby, nutty, sweet and salty and it is sure to be on rotation in your household. I love that the sauce comes together in a food processor and the addition of dates creates a really fun contrast in every bite.
Technique tip: While blending the sauce, use a tamp to make sure the greens are moving and blending at a proper rate. Always use pasta water in any pasta you are cooking, it is the glue that marries the pasta and the sauce and is the difference between a saucy, coated pasta and a pasta where the sauce runs right off. Sauce can be made up to 1 day in advance.
Swap option: Pine nuts can be swapped for walnuts or almonds, spinach can be swapped for blanched kale, rigatoni can be swapped for any other pasta of your choice. Preferably a noodle with a hole that can hold all that saucy goodness.
Special equipment: High-speed blender or food processor.
RELATED: TODAY recipes are now shoppable — and it makes ordering groceries online so easy
Ingredients
1

pound dried rigatoni

6

cups baby spinach

3

cups picked fresh soft-herbs (such as basil, mint, dill, parsley, or chives)

1

medium clove garlic

2

lemons, zested and juiced
3/4

cup extra virgin olive oil, plus more for drizzling

8

large medjool dates, pitted and thinly sliced

1

cup finely grated parmigiano reggiano cheese
kosher salt and freshly ground black pepper

1/3

cup toasted pine nuts, finely chopped
Preparation
1.
Bring a large pot of water to a boil. Heavily salt the water and cook the pasta according to the package instructions. Drain and reserve 2 cups of the pasta cooking water for later.
2.
Add dates to a bowl with warm water and soak for 10 minutes to plump before slicing.
3.
In a food processor, combine spinach, fresh herbs, garlic, lemon juice and zest, and pulse to combine. Add olive oil and blend until smooth and saucy. Season with salt and pepper to taste and set aside.
4.
Add the rigatoni and sauce into a large bowl and toss to combine, adding 1/2 cup of pasta water at a time, stirring in between, to allow the sauce to stick to the pasta. You may have water left, that is okay. Once the pasta is thoroughly coated in sauce, add in 1/2 cup of parmesan cheese and 1/2 of the chopped dates. Toss to combine.
5.
Divide into plates, top with pine nuts, remaining and parmesan and dates and enjoy.
How to shop TODAY recipes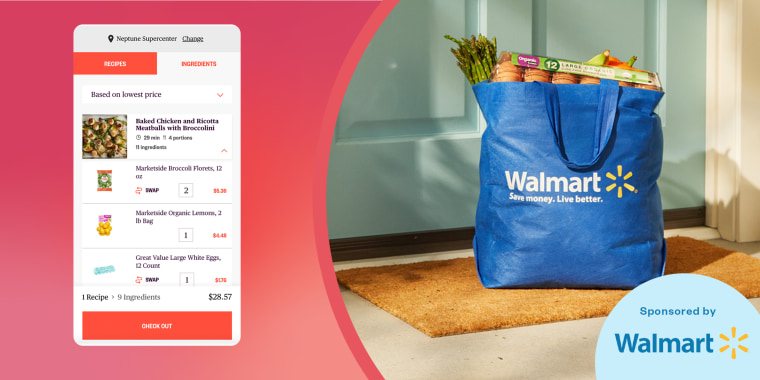 How to shop TODAY recipes
Here's everything you need to know about the cool new feature.
Learn More