Ingredients
1/2

pound (8 ounces) linguini or penne

1

pound boneless, skinless chicken breasts (about 3-4 breasts)

3

teaspoons olive oil, divided

1

teaspoon Cajun seasoning

1

medium red bell pepper, diced

1

clove garlic, minced
1

cup low-fat milk

1/4

cup water

1

tablespoon cornstarch

1/2

cup finely grated Parmesan cheese

1

medium Roma tomato, finely diced

1

large scallion, thinly sliced into rounds
Chef notes
It's easy to see why Cajun chicken pasta keeps popping up on fast-casual restaurant menus nationwide. Even picky eaters agree that the combination of spicy chicken and creamy sauce (not to mention mountains of irresistible noodles!) is across-the-board appealing. What's not to love? Well, the whopping waistline implications of indulging in all that Alfredo sauce and pasta can certainly add up.
When you want the satisfaction of your favorite restaurant standby without the heavy-sauced hangover, give this at-home version a try. Clocking in at about 450 calories per serving, it's a healthy excuse to have what you're craving. Boost the health benefits even more by adding a handful of fresh or frozen spinach or broccoli to the pan with the red bell pepper.
Preparation
Preheat the oven to 375 degrees F.
Bring a large (4-quart) pot of water to a boil and add the salt, stirring to dissolve. Add the pasta and cook for about 10 minutes or al dente. Drain and reserve.
While the pasta cooks, heat 2 teaspoons olive oil in a large skillet over medium heat.
Sprinkle the chicken breasts evenly on both sides with 1 teaspoon Cajun seasoning. Carefully place the breasts in the skillet. Cook for about 4-5 minutes per side, until the chicken is deeply browned and crisp.
Transfer the chicken to the baking sheet and into the oven to finish cooking through. Remove the chicken when a thermometer inserted into the thickest part of the breast reaches 165 degrees F.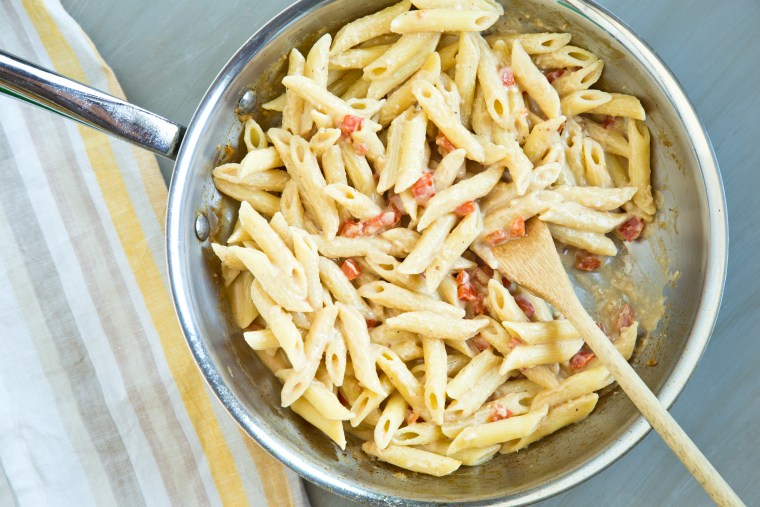 Add the remaining teaspoon oil to the skillet and stir in the bell peppers. Cook for about 2 minutes, stirring occasionally, until the peppers begin to soften, then stir in the garlic and cook for a minute more.
Pour the milk into the skillet and bring to a simmer.
Whisk the water and cornstarch together in a measuring cup, then pour into the skillet. Cook, stirring occasionally, for 1-2 minutes until the sauce thickens.
Turn the burner off and stir in the Parmesan cheese until melted, then stir in the cooked pasta.
To serve, divide the pasta between 4 bowls. Slice the chicken into bite-size pieces and divide evenly between the pasta dishes, then top each with handfuls of tomato and scallion. Serve immediately.
Note: The pasta sauce will thicken as it cools. Reheat in a covered skillet over medium-low heat, stirring in 1-2 tablespoons water as needed to help the sauce retain its consistency.