Ingredients
3

ounces unsweetened chocolate, finely chopped

½

cup unsalted butter

1

cup granulated sugar

¼

teaspoon salt
2

large eggs, straight from the refrigerator

½

cup unbleached all-purpose flour

10-12

ounces (16 to 20 fun size bars) chocolate candy bars, cut crosswise into ½-inch thick slices

½

cup chopped roasted peanuts (salted ones are nice, but unsalted will work, too)
Preparation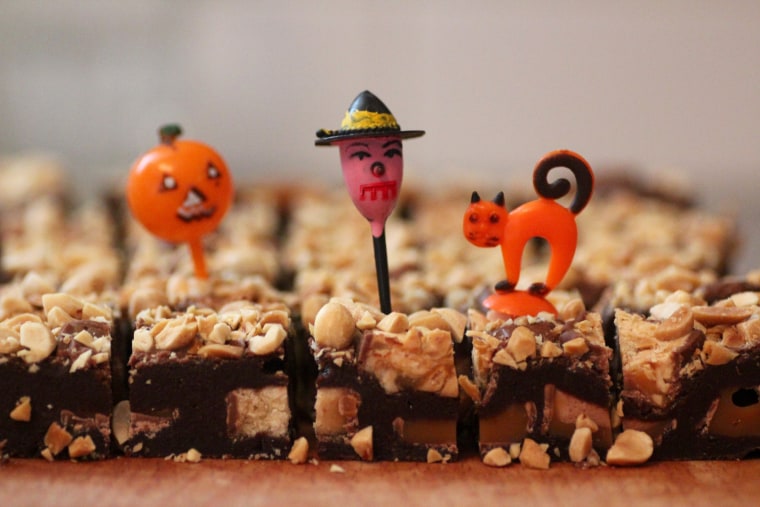 Preheat the oven to 325 degrees F. 
Melt the butter in a medium high-sided skillet over medium heat, keeping an eye on the pan so the butter does not burn. When the butter is quite hot (you may hear it sizzling or popping a bit), remove the pan from the heat and add the chopped chocolate. Stir once with a wooden spoon or rubber spatula and set aside to finish melting while you prepare the pan.
Line an 8 x 8-inch pan with foil or parchment paper, letting several inches hang over two opposite sides to create handles. Grease and set aside. Stir the chocolate and butter mixture until is smooth and the chocolate is completely melted. Beat in the sugar and salt, then beat in the eggs, one at a time. Vigorously beat in the flour until the batter is smooth, shiny, and tacky. Spread half of the batter in the prepared pan. Lay three quarters of the candy bar pieces on top of the batter in a mosaic fashion. Drop the remaining batter on top and smooth as best you can (it does not have to look perfect). Lay the remaining candy bars pieces on top, and then scatter the chopped peanuts over them. Bake until a toothpick inserted in the middle of the pan comes out with moist crumbs, not raw batter (about 30 minutes, but this can be hard to gauge, since the caramel and melted chocolate will be gooey).
Pop the hot pan directly in the freezer until the brownies are firm and cool, about an hour.
Using the parchment or foil handles, life the brownies out of the pan. Invert on a cutting board and peel off the foil or parchment.
Place another cutting board on top and invert again, so that the brownies are candy side up. Cut into small squares (they are quite rich) and serve.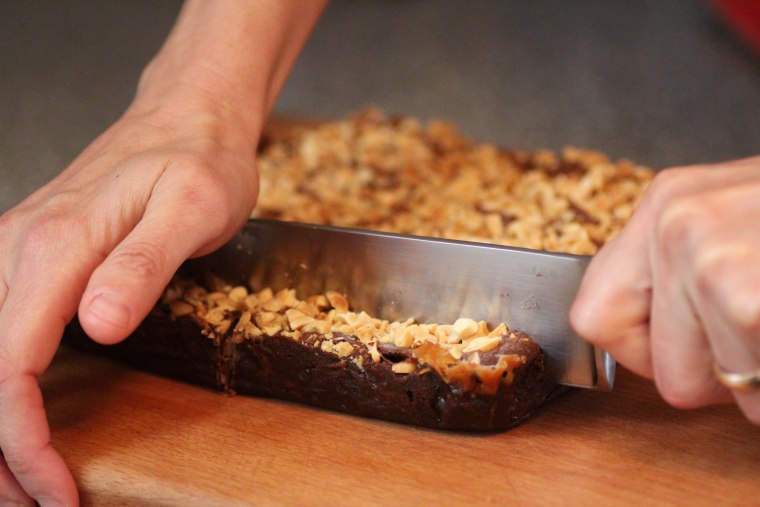 These taste best the day after they are baked; when still hot from the oven, they're impossible to cut nicely, and they're so gooey all of the flavors run together.