Chef notes
Pasta is a family-friendly dinner 365 days a year, but we think it's especially a winner in the summer months, when you can load it with in-season vegetables and turn it into a feel-good meal. This vibrant recipe features two super seasonal vegetables: green beans and sweet corn. Both are grilled until tender and juicy then tossed with al dente spaghetti or linguine, chopped chives and crumbled feta cheese. Not counting olive oil, salt and pepper, this recipe requires just five ingredients, which means it's as simple as it is satisfying. 
To make this recipe even more wholesome, try using whole-wheat or another whole grain pasta. While you may worry it won't be as tasty, that's not the case. Whole grain pasta isn't always the best pairing for all pasta sauces, but it works really well here. The nutty, earthy flavor that comes with this kind of pasta is a wonderful contrast to the naturally sweet flavors of green beans and corn. That means they balance each other to create something especially tasty. The feta cheese has an important role here, too. Its salty, tangy flavor adds another layer to every twirl. 
Feel free to play around with this pasta recipe. Try swapping the green beans with grilled bell pepper strips or the corn kernels for raw cherry tomatoes. If you're not a fan of feta, opt for crumbled goat cheese, instead, and use any chopped fresh herb like basil or parsley instead of chives.
If you don't have everything you need on hand, you can easily purchase all of the ingredients (just click the orange button below that says 'Get Ingredients'). You can pick and choose exactly what ingredients you need based on what's in your pantry and they'll be on your doorstep before you know it. 
Ingredients
1/2

pound whole wheat spaghetti or linguini

2

ears corn

3

tablespoons extra-virgin olive oil

1/2

pound green beans
3¼

teaspoons kosher salt, plus more to taste

1/4

teaspoon black pepper, plus more to taste

2

tablespoons minced fresh chives

1/4

cup crumbled feta cheese
Preparation
1.
Preheat a gas or charcoal grill to 450 to 500 degrees F or medium-high direct heat, or place a grill pan over high heat for 4 to 5 minutes.
2.
Brush each ear of corn lightly with 1 teaspoon olive oil and grill, turning occasionally, until the kernels are golden and charred in spots, about 10 minutes.
3.
Toss the green beans with 1 teaspoon olive oil and 1/4 teaspoon each salt and pepper. Place in a grilling basket or other implement to prevent the beans from falling through the grill grates, or directly onto the heated grill pan. Grill, tossing once or twice, until the beans are gently charred, 6 to 8 minutes.
4.
Slice the corn off the cob by standing each ear on end in a large bowl and running a knife down each side. The bowl will catch the kernels.
5.
Heat a large (4- to 6-quart) pot of water over medium-high heat for the pasta. When the water boils, add 1 tablespoon kosher salt. Add the pasta and cook according to package directions until al dente.
6.
Drain the pasta, reserving 1/4 cup of the pasta water.
7.
Toss the pasta in a serving bowl with the reserved water, corn green beans, chives and feta. Season with additional olive oil, salt and pepper to taste.
How to shop TODAY recipes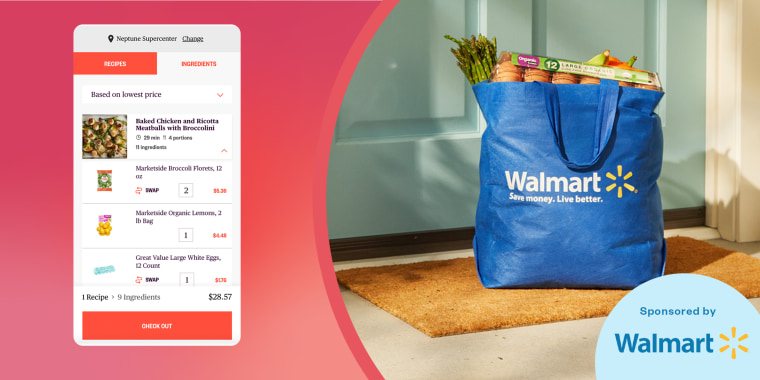 How to shop TODAY recipes
Here's everything you need to know about the cool new feature.
Learn More