Ingredients
For the shrimp
2

tablespoons olive oil

1/4

teaspoon sea salt

1/4

teaspoon freshly ground pepper
1/4

teaspoon ground cumin

1

pound peeled and deveined medium shrimp, tails on
For the panzanella
1

large clove garlic, halved

3

slices (1-inch thick) day old crusty bread

2

tablespoons extra virgin olive oil

2

cups cherry tomatoes, halved
1/4

teaspoon sea salt

1/4

teaspoon freshly ground pepper

2

tablespoons balsamic vinegar

1/4

cup pitted Kalamata olives
Preparation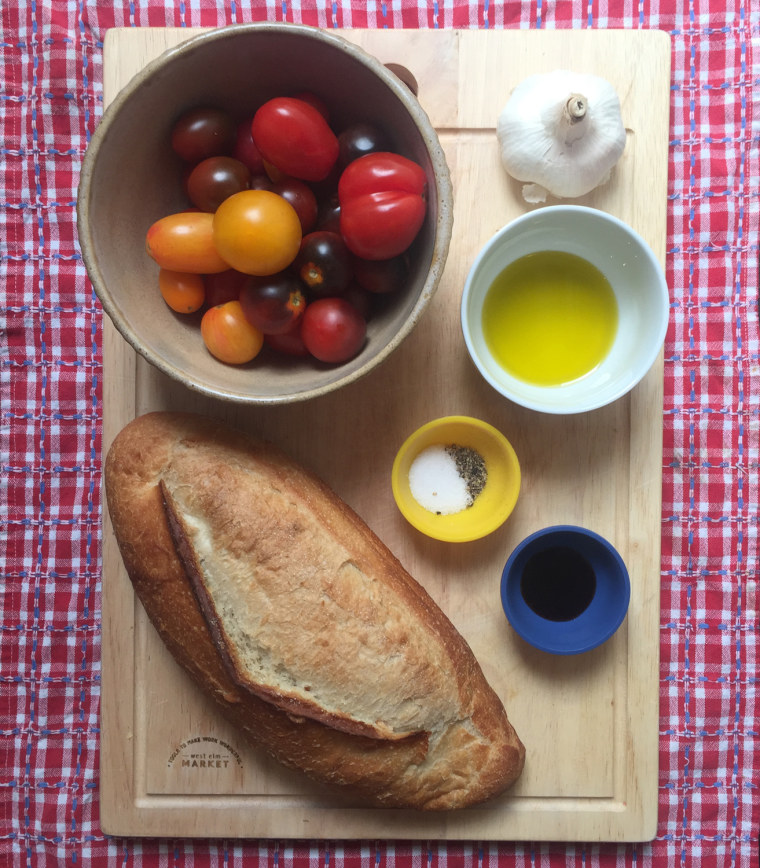 1.
In a zip-top plastic bag, combine all of the ingredients for the shrimp. Refrigerate for 30-60 minutes.
2.
Meanwhile, rub the cut sides of the garlic over the bread slices. Use a pastry brush to coat both sides of the bread with 1 tablespoon of the olive oil. Heat a grill or grill pan to medium high and grill the bread for 1 minute per side; transfer to a cutting board. Leave grill on.
3.
In a medium bowl, combine the cherry tomatoes, salt, pepper, balsamic, the remaining 1 tablespoon olive oil and olives. Toss gently.
4.
Remove shrimp from the bag with the seasonings (dispose of bag) and either thread on skewers or transfer to a metal mesh grilling basket and place on grill. Cook for 2 minutes per side, until pink and opaque. Remove from heat.
5.
Cut the grilled bread into 1-inch cubes and add to the bowl with the cherry tomatoes; toss. Serve about 10 shrimp and 1 cup panzanella on each of 4 plates.