Ingredients
1/2

cup olive oil + more for brushing

2

large lemons, cut in half

1/2

baguette, sliced into 2-inch thick pieces

1

large head romaine lettuce

1

medium garlic clove, minced
1

teaspoon Dijon mustard

1/4

cup freshly grated Parmesan cheese + additional grated cheese for serving.

1/2

teaspoon salt

1/2

teaspoon pepper
Chef notes
Looking for some new summer grilling recipes? If you're a fan of the classic Caesar salad, you will fall in love with this version that's easy enough to make on a busy weeknight and elevated enough to wow guests at a dinner party table. To make it, grill halved lemons and a head of romaine alongside thick-cut pieces of baguette. The dressing, made with a Dijon mustard base, zippy olive oil and fresh garlic, is creamy. The romaine and lemons get a deeper flavor on the grill. Topped with Parmigiano Reggiano, it's a salad worthy of a five-star restaurant. 
Preparation
With a silicone basting brush, lightly brush the cut sides of the lemons with olive oil and place cut side down on the grill. Cook until the lemons are slightly charred, about 3-4 minutes. Remove and let cool.

Slice the head of lettuce in half lengthwise and very lightly brush with olive oil on both sides. Place cut-side down on the grill and cook until blackened and wilting in spots, about 3-5 minutes. Flip and repeat on the other side. Remove and let cool.

Place the baguette slices on the grill and lightly toast on both sides, about 2 minutes per side.

Juice the grilled lemons into a medium bowl; you'll get about 1/4 cup juice. Whisk the lemon juice together with the garlic, mustard, Parmesan, salt, pepper and remaining 1/2 cup olive oil.

Roughly chop the lettuce and place in a serving bowl. Tear the toasted baguette slices into bite-size chunks and add to the bowl.

Serve with the dressing and additional grated cheese for guests to assemble to their tastes.
How to shop TODAY recipes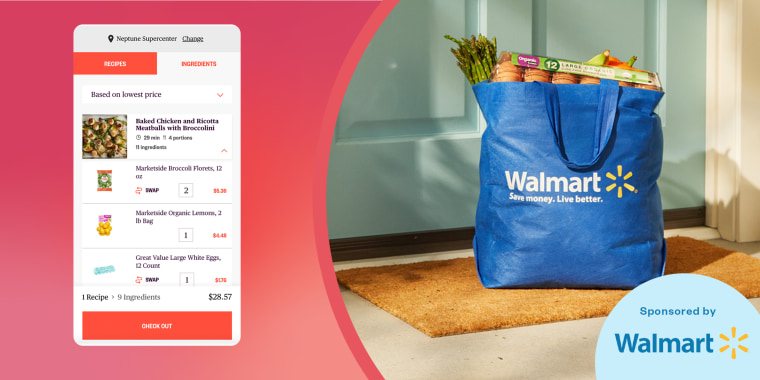 Here's everything you need to know about the cool new feature.