Chef notes
Sometimes during peak summer months, farmers' market bounties are almost too  good to us. When we find ourselves up to our necks in juicy cucumbers, spicy arugula and ripe tomatoes, but are sick of the same old salads, try this inspired recipe for a veggie-packed grain bowl from chef Elena Besser. 
This simple grain bowl recipe is the epitome of fresh summer flavor. It celebrates the bounty of the season while giving you a boost of energy from protein-packed chicken so that you can continue to enjoy those summer days outside. This is a recipe that Besser keeps coming back to because it is easy to make and serve for lunch, a healthy weeknight dinner or as a standout salad side at an outdoor dinner barbecue. Plus, if you have leftovers, the salad keeps super well in the fridge to enjoy the next day. Bonus: it's dairy-free and gluten-free!
Technique Tip: Start by rinsing the quinoa until the water runs clear to strip it of any excess starch or dirt. Once dry, toasting the quinoa in advance will impart a nice nutty flavor, adding depth to the grain, which is the star of the show. Using chicken broth to cook the quinoa will also improve the flavor. 
Swap Option: You may use two teaspoons of Dijon mustard instead of two tablespoons of miso paste. Feel free to swap the rotisserie chicken for your favorite can of drained and rinsed beans like cannellini or chickpeas for a protein-filled, vegan-friendly meal.
Ingredients
1/2

cup plus 2 teaspoons extra-virgin olive oil, divided

1

cup dry quinoa, rinsed and drained

1¾

cups water or low-sodium chicken broth

1

cup lightly packed and finely chopped herbs, such as mint, basil and parsley

1

clove garlic, peeled and grated

1

small bunch scallions, roots removed, thinly sliced on a bias, white and light green parts, dark green parts reserved for garnish

1/4

cup white or rice wine vinegar

2

tablespoons white miso paste
freshly ground black pepper, to taste
kosher salt, to taste

2

cups arugula

2

Persian cucumbers, sliced 1/2-inch thick on a diagonal

4-8

ounces sugar snap peas, sliced 1/2-inch thick on a diagonal

1

medium avocado, pitted, peeled and cubed

1

rotisserie chicken, white meat removed from the bones and shredded (about 2 cups)
Preparation
1.
Heat 2 teaspoons of olive oil in a large skillet over medium heat. Once shimmering, add quinoa and cook until it smells toasted, about 2 minutes.
2.
Add chicken broth, increase the heat to high and bring to a boil. Once boiling, cover, reduce the heat to low and cook until the liquid has evaporated, about 15 minutes. Remove from the heat and let sit, covered, 5 minutes more. Remove the lid and fluff with a fork. Add half of the herbs to the quinoa and reserve the remaining herbs for the dressing.
3.
Meanwhile, in a Mason jar or measuring cup, whisk garlic, scallion whites and light green parts, vinegar, miso paste or Dijon, salt, pepper and 1/2 cup olive oil. Add the remaining herbs and whisk to combine. Adjust seasoning to taste.
4.
To serve, add arugula to the bottom of the bowl. Top with quinoa, cucumbers, snap peas, avocado and chicken. Drizzle with dressing and toss to coat. Alternatively, plate into individual bowls and serve with dressing on the side.
How to shop TODAY recipes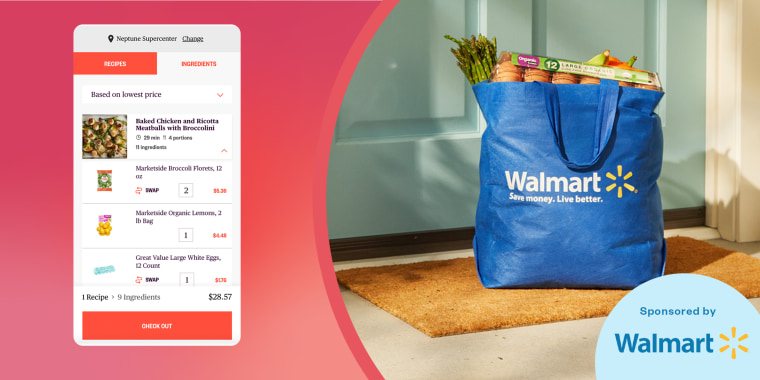 How to shop TODAY recipes
Here's everything you need to know about the cool new feature.
Learn More