Ingredients
3

tablespoons extra-virgin olive oil

2

tablespoons freshly squeezed lemon juice

1

tablespoon red wine vinegar

1

teaspoon Dijon mustard

1

teaspoon dried oregano

1/2

teaspoon kosher salt, plus more as needed

1/4

teaspoon freshly ground black pepper, plus more as needed
1/2

medium red onion, peeled and finely diced

12

ounces orzo pasta

1

pint cherry or grape tomatoes, halved

1/2

large English cucumber, unpeeled and diced

1

cup pitted Kalamata olives, coarsely chopped

1/2

cup loosely packed, coarsely chopped fresh parsley leaves

4

ounces feta cheese, crumbled (about 1 cup)
Chef notes
Not all pasta salads are created equal. Some are dense and creamy, usually thanks to an abundance of mayonnaise, while others are light, bright and colorful. This recipe falls into the latter category. It's inspired by Greek salad but the lettuce is replaced with tender orzo to ensure it's hearty and satisfying. This is a crowd-pleasing pasta salad to cart to your next cookout or picnic. Pair it with pretty much anything you plan to serve throughout the spring and summer — be it burgers, hot dogs, grilled fish or chicken. Or make it a part of your weekend meal prep to enjoy it as a packable lunch all week long. 
What makes this pasta salad Greek-leaning is a few key ingredients. Juicy tomatoes, crisp cucumbers and verdant parsley are crucial, as are briny Kalamata olives and salty feta cheese crumbles. However, it's the vinaigrette that really ties everything together. Whisk lemon juice, red wine vinegar, olive oil, salt, pepper and a healthy teaspoon of dried oregano together to create a bright and bracing vinaigrette that tastes like the Mediterranean. 
All pasta salads, in my opinion, are best served at room temperature. So while you can make this salad a day ahead of time and store it in the refrigerator until you need it, let it come to room temperature on the counter before serving. Also give it a taste: It might need a splash of vinegar, a drizzle of olive oil or a pinch of salt and pepper to come back to life after resting in the fridge. 
Technique Tip: Don't skip the 10 minute rest time before serving. It gives the orzo time to soak up the dressing and for all the ingredients to mix and mingle with each other.
Swap Option: Try using a blend of fresh herbs like mint, dill, chives, oregano and/or basil in place of some, or all of, the parsley.
Preparation
1.
Bring a large pot of salted water to a boil.
2.
Meanwhile, whisk the oil, lemon juice, vinegar, mustard, oregano, salt and pepper together in a large bowl. Add the onion, toss to coat and set aside to quick pickle.
3.
Add the orzo to the boiling water and cook until al dente, 7 to 9 minutes or according to package instructions. Drain and run briefly under cool water to cool the orzo down.
4.
Add the orzo, tomatoes, cucumbers, olives and parsley to the bowl with the pickled onion and toss to combine. Add the feta and toss gently. Let sit at least 10 minutes, stirring occasionally, to allow the flavors to meld. Taste and season with more salt and pepper as needed before serving.
How to shop TODAY recipes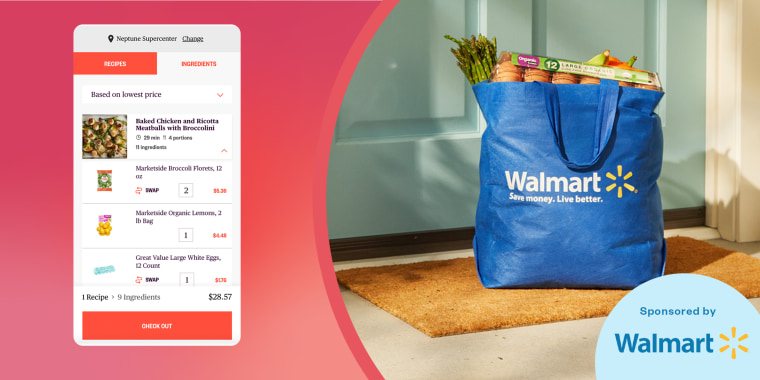 How to shop TODAY recipes
Here's everything you need to know about the cool new feature.
Learn More