Ingredients
3/4

cup almond flour

2

teaspoons smoked paprika

1

teaspoon onion powder

1/8

teaspoon sea salt

1/8

teaspoon freshly ground black pepper

1 1/4

pound thinly sliced chicken breast (about 1/4" thick)

1

egg

2

tablespoons avocado or olive oil, plus more as needed
3/4

cup low-sodium chicken stock

1/2

cup plus 2 tablespoons coconut cream

2

lemons, juiced

3

cloves garlic, minced

3

tablespoons capers, drained

2

teaspoons arrowroot starch

1

large handful fresh parsley, chopped, plus more for garnish
Chef notes
One of my favorite Italian meals of all time is chicken piccata. For those that have some food allergies or are looking for a low-carb option, this version is gluten-free and dairy-free while still being rich with flavor. While I use coconut cream for the creamy piccata sauce, the chicken is breaded with egg wash so this recipe is not vegan.
Swap Option: You may use cornstarch in place of arrowroot powder to thicken the sauce.
Preparation
1.
In a wide, shallow bowl such as a pie plate, add the almond flour, paprika, onion, salt and pepper.
2.
In a separate wide, shallow bowl, crack the egg and whisk until the yolk and white are homogenous.
3.
Season the chicken breasts with salt and pepper, dip in the beaten egg and then coat in the seasoned almond flour.
4.
In a large nonstick skillet set over medium heat, add 2 tablespoons avocado or olive oil. Once heated, add the coated chicken breasts and cook, 2 to 3 minutes per side, or until golden brown and cooked through. Add more oil before flipping, if needed. Transfer the cooked chicken breasts to a plate and set aside.
5.
Using a paper towel, wipe out any burnt pieces of almond flour from the bottom of the pan. Add the chicken stock, coconut cream, lemon juice, garlic and capers and cook for 3 to 4 minutes, or until slightly reduced and thickened.
6.
In a small bowl, whisk together the arrowroot powder with 1 tablespoon water. Add the slurry to the piccata sauce and whisk to combine. Place the chicken back in the skillet, along with chopped parsley. Simmer for about 2 minutes.
7.
Serve the chicken over zucchini noodles or pasta with the creamy piccata sauce and garnish with more parsley.
How to shop TODAY recipes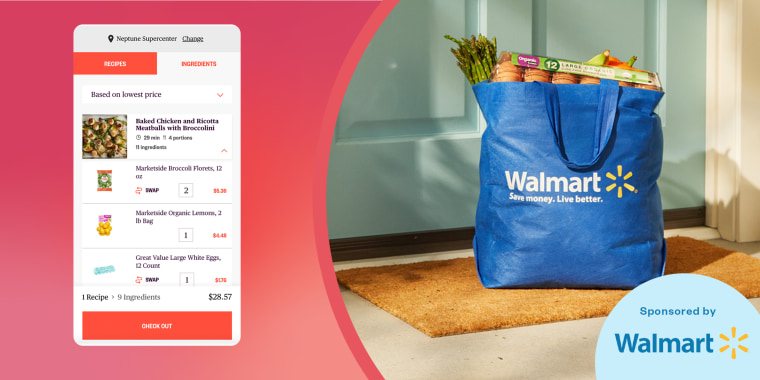 Here's everything you need to know about the cool new feature.