Ingredients
Garlic puree
1

head garlic

2

tablespoons olive oil
1/8

teaspoon kosher salt

1

teaspoon tamari
Artichoke risotto
5

tablespoons extra-virgin olive oil, divided

1

(9-ounce) package frozen artichoke hearts, cut into bite-size wedges

2

shallots, minced

1

cup Arborio rice

1¼

teaspoon salt, divided
1

cup Prosecco or sparkling white wine

2

cups unsalted vegetable broth, warmed

1

cup water, plus more if needed to loosen

1

tablespoon mint, chopped

3

tablespoons basil, chopped
Chef notes
Cook like an Italian with Giada's easy creamy artichoke risotto recipe. Pureed roasted garlic, Parmesan cheese and lemon zest make her version especially delicious.
Preparation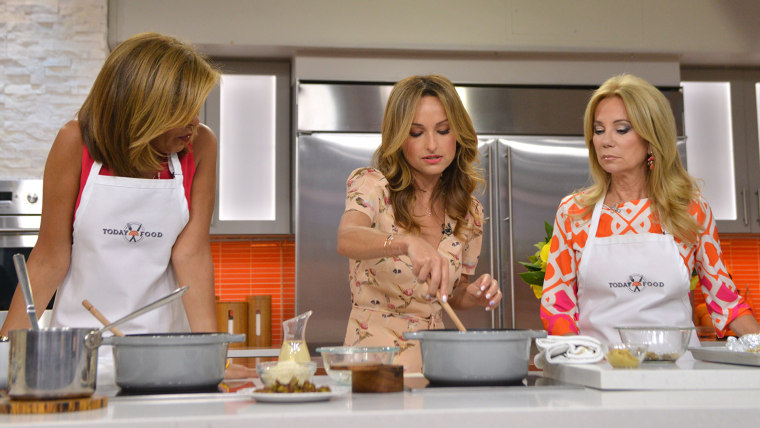 1.
Preheat the oven to 375°.
2.
Cut off the top 1/3 of the head of garlic and discard the top. Place the garlic on a sheet of foil big enough to bring up over the sides and seal. Drizzle the cut side of the garlic with the oil and sprinkle it with salt. Bring the foil up over the top and seal tightly. Place on a baking sheet and roast for about 45 minutes or until the garlic is completely soft all the way through and golden brown. Carefully open the packet and allow the garlic to cool for 10 minutes. Pour the oil form the foil into a small bowl. To that bowl add the tamari. Squeeze the roasted garlic from the skin into the bowl and mash with a fork into a smooth paste. Set aside.
3.
Heat 2 tablespoons of olive oil in a medium Dutch oven over high heat. Add the artichoke hearts and reduce the heat to medium high. Cook, stirring occasionally, for about 10 minutes or until the hearts are beginning to brown. Season with 1/4 teaspoon salt. Remove to a plate and set aside.
4.
In a new medium sauce pan combine the vegetable broth and water. Place over low heat to warm gently.
5.
To the artichoke pan, add the remaining 3 tablespoons of olive oil and the shallots and cook for 2 minutes stirring regularly. Add the rice and salt and stir, using a wooden spoon, to coat all of the rice in the oil. Continue to cook for 3 minutes or until the rice is sizzling and beginning to pop. Add the Prosecco and continue to stir until the wine is almost entirely absorbed. Now begin to add the vegetable broth and water, one cup at a time, stirring often between additions. After the first cup is almost entirely absorbed, add the next cup. Continue to do this until the rice is cooked through and you have a creamy risotto. This will take approximately 15 to 20 minutes. (It should not be dry but rather slightly loose so it runs off your spoon. If it gets too dry, add a bit more broth.) Stir in the mashed garlic and the herbs. Gently fold in the browned artichoke hearts and serve.