Chef notes
With four cheeses, a creamy white sauce, and loads of roasted wild mushrooms, this vegetarian lasagna is pure decadence. For the mushrooms, look for a mix of shiitakes, oyster mushrooms, and cremini. Portabella mushrooms are fine, but be sure to scoop out and discard the brown gills on the undersides—they're a little bitter and make things look murky. If wild mushrooms aren't in your budget, plain old button mushrooms are totally fine—they get a dose of concentrated flavor from oven-roasting. For the cheese, fresh ricotta is best. If using the commercial kind, let it drain in a colander lined with paper towels for a few minutes to remove some of the liquid.
Ingredients
2

pounds wild mushrooms, cleaned and sliced

2

shallots, thinly sliced (1/2 cup)

1½

teaspoons chopped fresh rosemary

1½

teaspoons chopped fresh sage

1½

teaspoons chopped fresh thyme

6

tablespoons unsalted butter, divided

1/4

cup extra-virgin olive oil
Salt and freshly ground pepper
2

pounds ricotta, preferably fresh

1/2

cup freshly grated Parmigiano-Reggiano, divided

1

pound fresh mozzarella, cut into small cubes

1

pound imported Italian Fontina, coarsely shredded

3

tablespoons all-purpose flour

3

cups whole milk

1

pinch freshly grated nutmeg

15

curly lasagna noodles, cooked and cooled
Preparation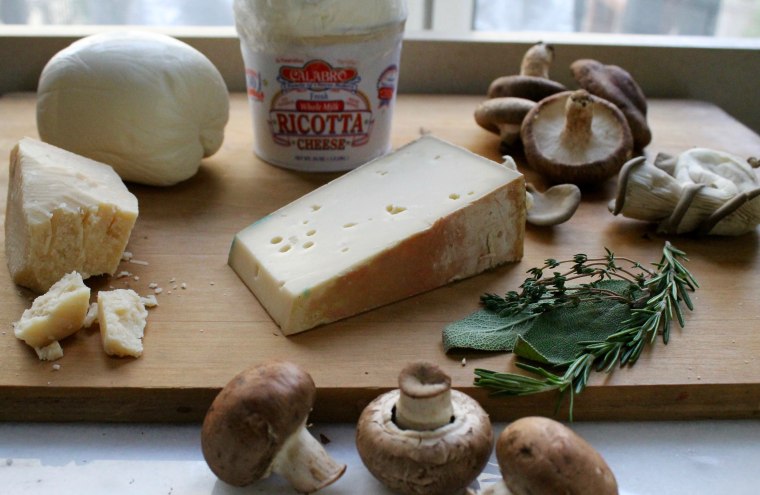 1.
Preheat the oven to 425° and lightly grease a large rimmed baking sheet. In a large bowl, combine the mushrooms with the shallots, rosemary, sage and thyme. In a microwave safe bowl, heat 3 tablespoons of the butter with the olive oil until melted. Pour over the mushrooms, season with salt and pepper and toss to combine.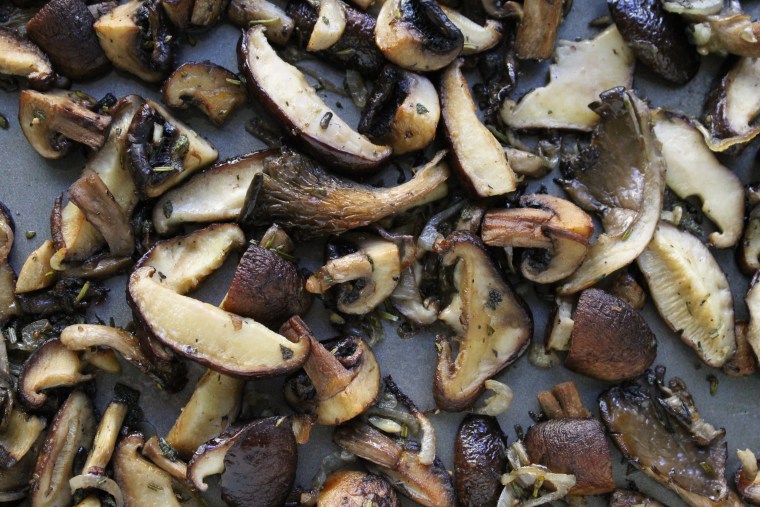 2.
Spread the mushrooms and shallots on the baking sheet and roast in the center of the oven, stirring once or twice, until golden, about 30 minutes. Reduce the oven to 375°.
3.
In a medium bowl, combine the ricotta with 1/4 cup of the Parmesan and season with salt and pepper. In another bowl, combine the mozzarella, Fontina and remaining Parmesan.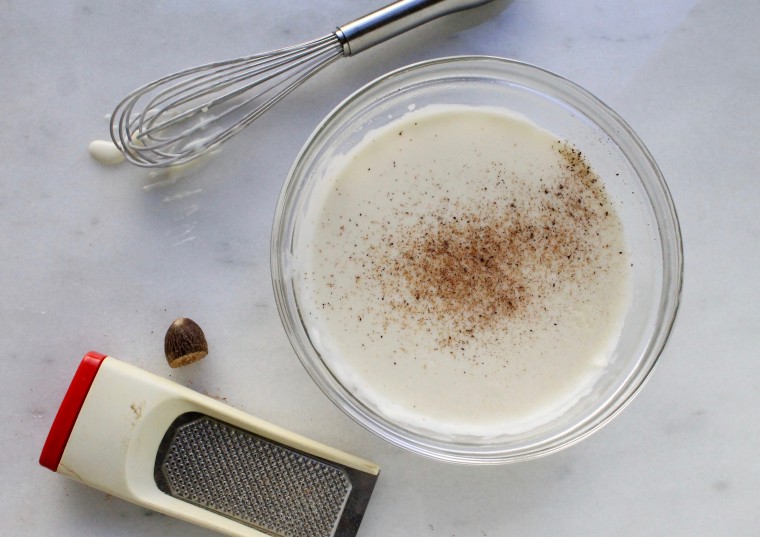 4.
Make a béchamel sauce: In a medium saucepan, melt the remaining 3 tablespoons of the butter. Whisk in the flour and cook over moderately high heat, whisking constantly, until lightly golden and fragrant, about 3 minutes. Whisk in the milk and cook, whisking constantly, until bubbling and thickened, about 8 minutes. Add the nutmeg and season with salt and pepper.
5.
Spread about 1/2 cup of the béchamel sauce on the bottom of a 9-inch by 13-inch baking dish. Arrange 5 of the noodles, overlapping in the dish. Dollop half of the ricotta mixture, spreading it to an even layer and top with half of the mushrooms.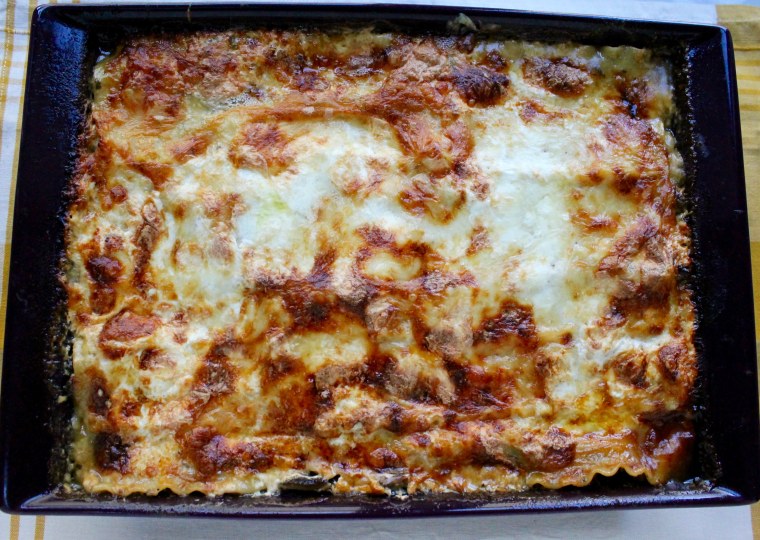 6.
Top with a third of the mozzarella-Fontina-Parmesan mixture. Drizzle one-third of the remaining béchamel sauce. Repeat another layer with the 5 more noodles, the remaining ricotta mixture, the remaining mushrooms, half of the remaining mozzarella-Fontina-Parmesan mixture and half of the remaining béchamel. Top with the remaining 5 noodles, béchamel and cheese. Cover loosely and bake for 30 minutes. Uncover and bake until golden and bubbling, 20 to 25 minutes longer.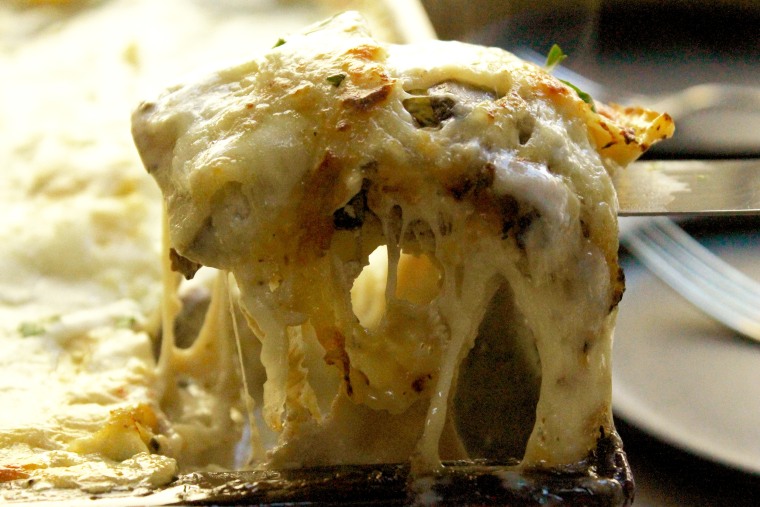 7.
Let rest for 20 minutes before cutting into squares.
8.
Serve.
Grace Parisi is a New York City-based food writer, cookbook author and food stylist. Her book, Get Saucy, was nominated for a James Beard award. Her latest book, Quick Pickles comes out in Spring 2016. Follow her on Instagram  and Twitter.