Chef notes
Inspired by some of the ingredients in a Greek salad, these chicken meatballs are made with feta, oregano and garlic with yogurt mixed in to keep it moist and tender. The salad that accompanies it isn't a traditional Greek salad, but it celebrates most of its key components, namely feta, tomatoes and cucumbers (you can also add olives, if you'd like). I love snacking on the meatballs cold the next day or bringing it to a picnic. Because romaine is a sturdier lettuce, it holds up well in the dressing and can be easily transported.
You'll see that many of the seasonings and ingredients in the meatballs also appear in the salad, so to make this easier for you, as you prep the meatball and salad dressing ingredients, place the two bowls side by side so that you can divide the overlapping ingredients and save yourself time. Use the meatball cooking time to cut the lettuce, tomatoes and cucumbers.
Technique tip: Make sure to not overwork the meat when combining it with the other ingredients; mix just enough so that the ingredients are evenly distributed.
Swap option: Swap red wine or sherry vinegar for the lemon juice (about 2 tablespoons). The recipe calls for romaine, but you can use any other crunchy lettuce, if you're eating it right away.
RELATED: TODAY recipes are now shoppable — and it makes ordering groceries online so easy
Ingredients
1

large egg

2

teaspoons dried oregano, divided

1/2

teaspoon red pepper flakes

2

large cloves garlic, grated or minced, divided

2

lemons, 1 zested and juiced, 1 halved
salt

1/2

cup fresh mint leaves and tender stems, roughly chopped, divided

1

cup crumbled feta, divided

2

tablespoons full-fat yogurt, such as Greek, skyr or labneh
1/2

cup panko breadcrumbs

1

pound ground chicken or turkey, preferably dark meat

2

tablespoons olive oil

1

red onion, cut into thin slices, divided

2

heads romaine or other crunchy lettuce, cut into 2-inch pieces

1

pint grape tomatoes, halved

1

medium cucumber, thinly sliced into half-moons (about 1½ cups)
freshly ground black pepper
Preparation
1.
Heat the oven to 400 F.
2.
In a large mixing bowl, whisk the egg, then combine 1 teaspoon oregano, the red pepper flakes, half the garlic, lemon zest, 1 teaspoon salt, half the mint, 1/2 cup feta, yogurt and breadcrumbs with the meat until evenly distributed. Coat a sheet pan with 1 tablespoon oil. Add half the red onion and a pinch of salt, coating it with the oil.
3.
Lightly oil or wet the palm of your hands so the meat doesn't stick to them, then shape the meat into 2-inch meatballs, about the size of a golf ball. You'll have approximately 20. Cut one of the lemon halves into thin slices, then add to the pan. Bake in the oven until the meatballs are browned on at least one side and cooked through, about 18 minutes, shaking the pan halfway to move them around. Squeeze the remaining lemon half over them.
4.
While the meatballs are cooking, in a large serving bowl, make the dressing: Combine 1 teaspoon dried oregano, remaining garlic, juice of 1 lemon and whisk in olive oil until smooth. Season to taste with salt. Add the lettuce, remaining red onion, tomatoes and cucumbers, tossing to coat in the dressing. Mix in the remaining feta and season to taste with salt and pepper as needed. Serve with the meatballs, onions and lemon rounds.
How to shop TODAY recipes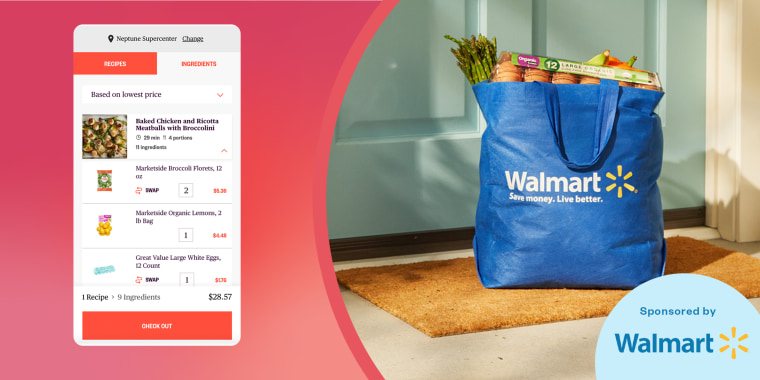 How to shop TODAY recipes
Here's everything you need to know about the cool new feature.
Learn More