Chef notes
Every salad, no matter how simple or straightforward, deserves a special dressing. This salad is quick enough to be an everyday lunch or side dish. It features a balance of essential flavors and textures  — something fresh, something briny, something fatty and something crunchy. 
Cubes of ripe avocado add a little something creamy while crumbles of feta cheese add a briney, salty bite to each forkful. Crunchy sunflower seeds are scattered throughout, and one or more of your favorite herbs adds a fresh finish (use whatever you have on hand, but we live for the combination of tender herbs like basil, cilantro and mint). Canned chickpeas add a bit of protein to the salad. If chickpeas aren't your thing, use whatever beans you like — cannellini or lima beans have a similar creamy texture. You could also add leftover proteins like rotisserie chicken, cooked shrimp or flaked salmon. 
As if the salad itself didn't sound delicious enough, there's a zippy ramp vinaigrette too. Ramps have a very short season during the spring. If you blink you'll miss it. But don't worry — scallions have a similar, slightly less garlicky note, but they will still add a lot of flavor to this dressing. If you are lucky enough to get your hands on a bunch of ramps, you can use the leftover green tops to blitz up a pesto sauce. Or you could give them a quick sauté with other greens like kale, spinach or Swiss chard. A splash of apple cider vinegar, a spoonful of grainy mustard and olive oil bring the vinaigrette together, then all the salad needs is a drizzle before it's ready to enjoy.
Ingredients
For the Ramp Vinaigrette
2

tablespoons apple cider vinegar

2

teaspoons old-style whole-grain or Dijon mustard

2-3

ramp bulbs, minced
3

tablespoon olive oil
kosher salt and freshly ground black pepper, to taste
For the Salad
1/4

cup sunflower seeds
kosher salt and freshly ground black pepper, to taste

1

head romaine lettuce, cut into 2-inch pieces

1/2

cup crumbled feta
1

Hass avocado, cubed

1/2

(13.5-ounce) can chickpeas, rinsed and drained

1/2

packed cup fresh mint, basil or cilantro leaves and tender stems, roughly chopped
Preparation
For the vinaigrette:
In a small mixing bowl, mix the vinegar, mustard and minced ramp, then whisk in the olive oil until smooth and emulsified. Season to taste with salt and pepper.
For the salad:
Heat a small, dry skillet over medium-high heat until hot, 1 to 2 minutes. Add the sunflower seeds and season with salt, stirring occasionally, and cook until you hear them pop and start to brown, 2 to 3 minutes. Remove from the heat and set the pan aside until the salad is ready.
Place the sunflower seeds, lettuce, feta, avocado, chickpeas and mint in a salad bowl. Add the vinaigrette and toss to coat. Season to taste with salt and pepper.
How to shop TODAY recipes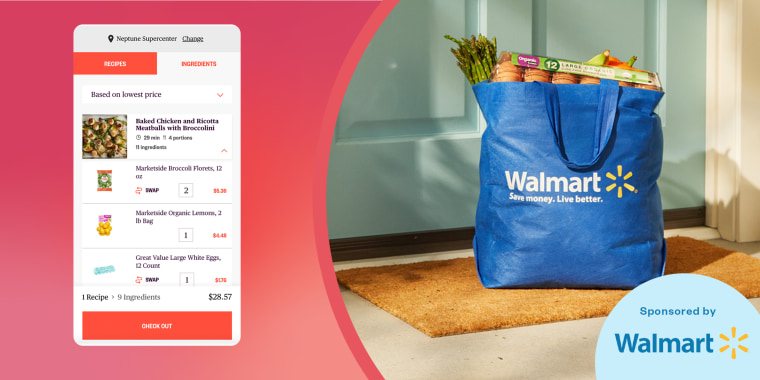 How to shop TODAY recipes
Here's everything you need to know about the cool new feature.
Learn More