Chef notes
This sheet-pan dinner is a great way to eat a ton of vegetables, either as a main course or side dish. Eggplants have a high moisture content, so this recipe blasts them under direct heat from the broiler so that the liquid cooks off, then adds in the oil so that they soak them up like a sponge without leaving you with that rubbery texture that can happen with eggplants.
Technique tip: Make sure to cut thick broccolini stems in half lengthwise so they cook in the time below.
Ingredients
1

small Italian eggplant, ends trimmed, cut into 1/2-inch rounds
kosher salt

1/4

cup olive oil

2

tablespoons red wine vinegar or sherry vinegar
freshly ground black pepper

1/2

teaspoon crushed red pepper flakes, or more depending on heat preference

1/2

teaspoon dried oregano
2

bunches broccolini, ends trimmed and thick stalks cut lengthwise

1

pint grape or cherry tomatoes

1

small red onion, cut into 1/2-inch wedges

3-4

cloves garlic, smashed

1/4

cup grated Parmesan, plus more for garnish

1

(4-ounce) ball mozzarella, torn into bite-sized pieces, or 3/4 cup ricotta

1/4

cup packed fresh basil or flat-leaf parsley leaves and tender stems, roughly chopped
Preparation
1.
Heat the broiler with a rack 6 inches from the heat source and another rack directly beneath it.
2.
On a sheet pan, generously season both sides of the eggplant with salt. Cook on the top rack until they brown on top, about 5 minutes. Turn them over and cook until browned on the other side, about 5 minutes more.
3.
Meanwhile, in a small bowl, mix together the oil and vinegar and season with salt, pepper, red pepper flakes and oregano. In a large mixing bowl, pour in half of the liquid, then add the broccolini, tomatoes, onions and garlic, tossing to coat well. If anything looks dry, add a little more oil.
4.
Remove the eggplant, generously brush both sides with the remaining oil and vinegar, pouring any remaining on the broccolini and tomatoes, then layer the broccolini mixture on top. Cook until the tomato skins blister and the broccolini stems can be easily pierced with a fork, about 5 minutes. If the broccolini tips threaten to burn, then place on the lower rack to finish cooking.
5.
Turn the broccolini over, then top the entire sheet pan with a sprinkling of Parmesan and pieces of mozzarella, and broil until the cheese is melted, 2-3 minutes more. Garnish with a sprinkling of Parmesan, pepper, a drizzle of olive oil and herbs.
How to shop TODAY recipes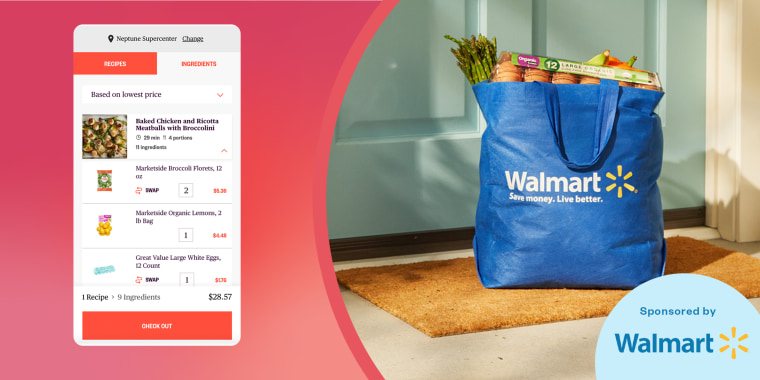 How to shop TODAY recipes
Here's everything you need to know about the cool new feature.
Learn More